Just one game into the season, Kansas University women's basketball coach Marian Washington's recruiting class is stepping up already.
Freshmen Erica Hallman and Crystal Kemp and sophomore transfer Aquanita Burras accounted for all of the Jayhawks' points during a game-ending 8-2 run that gave Kansas a 63-60 victory against the University of Texas-El Paso on Sunday in Allen Fieldhouse.
"I think we just have a lot of heart, and we're going to play to the finish," Hallman said. "We did a good job not giving up and playing solid defense down the stretch."
The Miners (1-1) took their first lead, 58-55, after back-to-back three-pointers by Kia Dowell with about five minutes left.
Neither team could score for the next two minutes until Hallman hit a jumper. She stole the ball on UTEP's next possession, and Kemp found Burras under the basket for a layup and a 59-58 Kansas advantage.
UTEP turned the ball over again on its next possession, and freshman Tamara Ransburg passed to Kemp for a layup. After Dragana Zoric made a driving layup that brought the Miners within a point, Hallman hit two free throws for the final margin.
"That's how it's going be probably, day in and day out," Hallman said. "We're going to have somebody different contributing every day, and it's really going to help us down the stretch."
Kemp finished with 21 points and 10 rebounds in her college debut, playing all but two minutes.
"She ran the floor very well tonight," Washington said, "and (gave) 38 minutes worth of tremendous performance."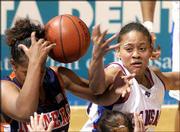 Hallman, who did not play in either of the Jayhawks' two exhibition games because of an injured right knee, scored nine points, grabbed four rebounds and had three assists in 21 minutes.
"Just the few minutes she was out there I thought she really helped to make a difference," Washington said, "particularly down the stretch. She's had her debut and it's only going to get better."
Kansas started strong in its season-opener, leading by as many as 15 in the first half, but the Miners went on a 20-11 run in the first 7 1/2 minutes of the period to pull within two points.
Dowell's three-point exhibition and an unexpected zone defense that stifled the Jayhawks' attempts to get the ball to Kemp down low helped UTEP continue its success and grab a lead.
"We didn't anticipate them going to a zone," Washington said, "so it cut into our momentum, without question. We struggled trying to get some looks we wanted."
Washington said she thought the early season, come-from-behind victory was significant for her young club.
"It's real important, because I guarantee you we're going to have to fight for every win that we get this year," Washington said. "The fact that this team is already beginning to understand that and they're trying to respond to situations like this - I think it's all real important."
Copyright 2018 The Lawrence Journal-World. All rights reserved. This material may not be published, broadcast, rewritten or redistributed. We strive to uphold our values for every story published.