TUCSON, ARIZ. — No. 1 Arizona delivered an ominous message to future opponents in its season opener: Look out.
Freshman Hassan Adams scored 16 of his 22 points in the second half to lead seven Wildcats in double figures in a 107-68 rout of 19th-ranked Western Kentucky on Saturday.
"We are going to win a lot of games by a lot of points," Arizona's Luke Walton said.
Rick Anderson scored 14 for Arizona, all in the first half, and Jason Gardner added 12, all in the second half.
David Boyden scored 26 for Western Kentucky.
No. 5 Pittsburgh 82, Duquesne 67
Pittsburgh - Pittsburgh, opening a season in the Top 5 for the first time in 15 years, overcame a below-average game from star Brandin Knight to pull away from stubborn city rival Duquesne. Julius Page scored 17 points in a balanced Pitt offense.
Jimmy Tricco and reserve guard Brad Midgley each had 13 points for Duquesne.
No. 6 Duke 101, Army 53
Durham, N.C. - Freshman Shavlik Randolph scored 23 points, Dahntay Jones and freshman J.J. Redick each had 14 and Daniel Ewing added 10 for the Blue Devils. Joey Payton led Army with 10 points.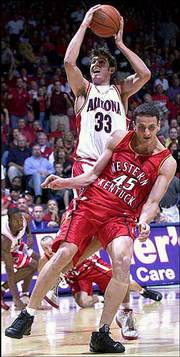 La.-Lafayette 79, No. 12 Mississippi St. 76
Starkville, Miss. - Brad Boyd scored 33 points and hit a 3-pointer with 1:12 left to put Louisiana-Lafayette up for good. Timmy Bowers led the Bulldogs with 22 points.
No. 14 Connecticut 91, Quinnipiac 72
Storrs, Conn. - Ben Gordon scored 22 points and had three steals as Connecticut remained perfect in 17 home openers under coach Jim Calhoun. Rob Monroe led Quinnipiac with 15 points.
No. 16 Marquette 80, Texas-San Antonio 68
Milwaukee - Dwyane Wade scored 22 of his 32 points in the first half, helping No. 16 Marquette beat Texas-San Antonio.
Scott Merritt added 13 points, and Robert Jackson had 12 for the Golden Eagles (3-0).
Ike Akotaobi scored a career-high 24 for San Antonio (1-1).
No. 18 Georgia 87, Belmont 71
Athens, Ga. - Jarvis Hayes scored 19 points, including 11 in a 22-5 second-half run, for Georgia (1-1). Adam Mark led Belmont (1-2) with 29 points.
No. 23 Cincinnati 54, Tennessee Tech 48
Cincinnati - Leonard Stokes ended Cincinnati's 9-minute scoring drought with 15 consecutive points and finished with 21 as the Bearcats rallied to win their opener. Cameron Crisp led Tennessee Tech (0-1) with 16 points.
No. 25 Tulsa 71, New Mexico St. 61
South Padre Island, Texas - Dante Swanson scored 23 points as Tulsa opened the season with a victory in the South Padre Island Roundball Invitational. Brandon Mason had 17 points for New Mexico State (1-1).
Copyright 2018 The Associated Press. All rights reserved. This material may not be published, broadcast, rewritten or redistributed. We strive to uphold our values for every story published.