Sundance, Utah — Sundance Village, Robert Redford's own resort at the base of the Wasatch Range's highest peak in Utah, is known worldwide for its annual film festival. But it also offers a low-key, no-hassle escape just about any time of year in what the actor calls rustic elegance.
While less than an hour from Salt Lake City, here the natural scenery is unmatched and activities overlap into the seasons. In addition to the Sundance Film Festival, next coming up Jan. 11-20, the area is a perfect destination for winter skiing.
"Sundance is a mixture of old and new, lush and spare, sophisticated and primitive," Redford says. "Like art itself."
"I needed a sense of history and I wanted to keep the culture," he says. "This place had very specific things attached to it and I wanted to honor it. It should be respected which is why the property is rustic."
Despite the star-sightings, Sundance is not a place for fancy laptops or designer handbags. It's a place where travelers sink into woven leather chairs, enjoy a glass of wine, pamper themselves with a stone massage or listen to a story-turned-legend about the area.
"There is a story to be told in every single detail of our property," Redford says. "And many times, it is a success story. This is all growing out of stories. It's in the ground here."
Take for example the Owl Bar.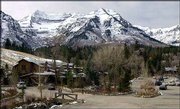 Transplanted from Thermopolis, Wyo., to Sundance, the Owl Bar is a restored 1890s bar that was once a popular hangout for Butch Cassidy's Hole-in-the-Wall Gang, Redford says.
Then there's Sundance Village itself, with 95 guest cottages, attractive mountain homes, shops, restaurants and an artisan center that is cradled by the plush surrounding forest.
One of the outstanding aspects of Sundance is its ability to open itself to all forms of expression.
The creative mind is nurtured here, guests say.
Many ways to unwind
For Wade and Susan Cauthen of Atlanta, the oneness with nature that Sundance offers is what keeps them coming back year after year. The two celebrated their 15th wedding anniversary here this year and have made the resort a permanent vacation spot.
"My favorite thing is to be able to put my life back in perspective, by being totally blown away by nature and the mellow pace of the area," Susan Cauthen says.
The Cauthens were referred to Sundance in 1996 by a friend who thought they'd enjoy its simplicity.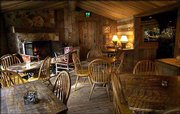 "I love the physicality of hiking, horseback riding in the aspen groves, interacting with other guests at dinner or breakfast and getting to know the Sundance team at the Art Shack (Artisan Center)," Susan says.
Her husband says he likes Sundance because it allows him to refocus "on the things that are most important. I believe I come away a little more balanced after each trip."
There are many ways to unwind at Sundance. Among the favorites are relaxing and the rejuvenating treatments at the spa.
The spa at Sundance features walls made from sunflower seed shells and gives guests a complimentary 15-minute organic foot bath. Signature treatments include a stone massage and men's facial.
The 90-minute Sundance Stone Massage combines the experience of human touch and stone therapy with American Indian principals of the four directions.
During the massage, which costs about $150, smooth, heated basalt stones are placed on the body in a pattern symbolizing the principal of the four directions. Each stone represents a different color, animal, life cycle and direction. The stones then are used in body-balancing for a medium pressure massage.
Artistic expressions
Following an afternoon of pampering and self-indulgence, some guests grab a book and sit by the fireplace. Others take a walk on the twisting trails or hop on the year-round ski lift for a view of the area. Some tap into their own creativity at the Art Shack.
Getting there: Rental cars and car services are available at Salt Lake City International Airport Executive Charter (www.executive-charter.com/, (800) 787-0570) will take two people by limo or SUV from the airport to Sundance for $70. Each additional person is $35. Sundance will arrange for you to be picked up when you make your reservation. That costs $45 per person each way, with a $70 minimum. Dining: Sundance offers three quality restaurants on the premises. The Tree Room, the resort's premier restaurant, features the seasonal mountain cuisine of Chef Jason Knibb. Specialties include sour cherry braised short ribs with quinoa and grilled venison, with a red wine juniper sauce. The Foundry Grill is a more casual restaurant that features hearty, down-home cooking. The Owl Bar is a restored 1890s Victorian rosewood bar, known to have been frequented by Butch Cassidy's Hole-in-the-Wall Gang. Moved in 1994 from Thermopolis, Wyo., to Sundance, it offers a limited bar menu. Lodging: Sundance has five options for lodging, which include a standard double occupancy rate until Dec. 19 for $205 a night, a mountain suite loft for $315, a two-bedroom home for $500 and a four-bedroom home for $700. Information and reservations: Phone (800) 892-1600 or visit www.sundanceresort.com
Workshops here are designed to encourage individual growth and personal expression. Sundance provides year-round classes in photography, glass blowing, paper making, pottery and jewelry design.
Classes often integrate nature into the artistic process. For example, jewelry-making classes may begin with a trip to a nearby quarry to select natural stones and minerals. Photography classes, called "Photography: Movement," might involve horseback riding or snowshoeing in the mountains.
Other activities include moonlight hikes, stargazing parties, yoga, wellness workshops, open-air cinemas, author readings and ongoing film screenings.
But perhaps most popular is the Sundance Institute, which was created in 1981 as a place to nurture artistic expression in independent film.
The Institute is a not-for-profit, multidisciplinary cultural enterprise that the organizers say is dedicated to the development of artists of independent vision and to the presentation of their work.
Redford, a regular at the resort, received an honorary Academy Award earlier this year for his work as an actor, director and producer, with special recognition for his promotion of independent cinema through the Sundance Film Festival.
When not in production on a film, Redford serves as a resource to young filmmakers during the summer months in the Institute Lab programs.
Every summer since its creation, the institute has offered professional theater under the stars. However, this year's final performance of "Dear World" in August marked the end of the decades-old tradition.
In its place, the Sundance Village is offering a series of cultural programs, which will include touring musicals.
Copyright 2018 The Associated Press. All rights reserved. This material may not be published, broadcast, rewritten or redistributed. We strive to uphold our values for every story published.