The vivid history of the United States passes gloriously in review each year through its postage stamps.
Beginning with the first U.S. stamps issued in 1847, we've seen the most important people, places and events come alive in colorful stamps. From the great founding fathers of our nation to the more recent accomplishments of the American space program, these images provide a pictorial history in progress.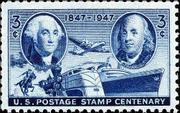 The first stamps in 1847 were the 5-cent Benjamin Franklin and 10-cent George Washington adhesives. Since that time, stamps depicting these two famous figures have appeared frequently. In 1947, to celebrate the centennial of the first stamps, U.S. postal officials released a 15-cent special souvenir sheet that featured reproductions of the originals.
History was hailed in 1992 for the 500th anniversary of Christopher Columbus' first voyage to the New World. Four commemorative stamps were issued honoring the historic voyage. This was part of a joint issuance with Italy.
Another historic landing was commemorated in 1920 for the tercentenary of the Pilgrims arriving at Plymouth Rock.
Children got involved in stamp designs, too. In 2000, the U.S. Postal Service held "Stampin' the Future" " a youth stamp design contest for youngsters 8 to 12 based on their visions of the 21st century.
Since 1960, there have been more than 65 stamps dedicated to space projects, including Project Mercury, the moon landing, Gemini 4 and Apollo 8.
Copyright 2018 The Associated Press. All rights reserved. This material may not be published, broadcast, rewritten or redistributed. We strive to uphold our values for every story published.