Willoughby, Ohio — Sparks scatter on the floor like fireworks as the welder touches the powerful blue flame to the right hand of the 9-foot steel statue.
The sculpture will take him about a year to complete, but this is what nourishes 83-year-old Sidney Rackoff. He has been making sculptures for public display for nearly two decades.
"It's a joy to know that every single day of the year, thousands of people relate to my work, positively or negatively," he said. "I want to share my vision of the human experience with everyone."
Rackoff, who grew up in Portland, Maine, began taking art classes a year before he retired from his duties as a rabbi. He was 60 years old, with no artistic background. Drawing class led to a painting class and then a class in ceramics. It was here that he began making figurines of mothers and children.
About four years later, a fellow artist suggested he try welding. It took him three weeks to get two pieces of metal to stick together as he worked to master the technique. Two welding courses later, he was hooked.
Forty of his sculptures are displayed in malls, high schools, libraries and even on street corners throughout northeast Ohio. The abstract pieces are made from ribbons, rods and chunks of scrap metal twisted and welded to create images of people in ordinary life.
Rackoff likes sculpting because the finished product is three-dimensional, "a physical thing you can touch and observe, much more physical than painting." His pieces are not religious, although he said he considers every aspect of the human experience a gift from God.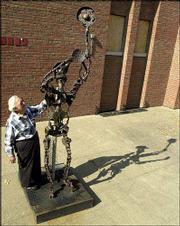 Today, Rackoff is cloaked in an overcoat and apron, hidden under a mask as he works on the hand of the half-ton steel statue of a working man.
He has welded about 20 statues that are up to 9 feet tall, with materials he finds in scrap yards. Sometimes he spends as much time gathering parts as he does welding. But he gets plenty of help from people working in the scrap yards.
"It's all person-to-person related," he said. "It's a community production."
Art in motion
Some of his sculptures capture people in motion, such as the woman with outstretched arms pumping, running to work. The statue of a construction worker stands erect and proud. The Vietnam veteran with one leg, one arm and a crutch looks downcast and dejected.
"My view of life is I want to honor the human condition in every one of its aspects: the happy side, sometimes the sad side, the working side and motherhood," Rackoff said.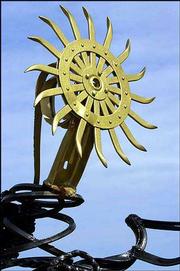 His 6-foot "Welder," painted yellow to attract the attention of drivers zooming past, is chained to a gas station sign on Cleveland's east side. The statue of a man in a welding mask concentrating on a piece of steel is dedicated to a gas station worker who died in a shooting there. When Rackoff inquired at the gas station about erecting a sculpture somewhere in the area, a worker asked that the statue be placed in front of the station in his friend's name.
Work respected
Rackoff said no one had ever stolen or damaged any of his sculptures, even though many are erected in areas troubled by crime.
"People love art and they respect it. Even when they disagree with it, they respect it," he said. "Sculpture brings out in people powerful emotions."
Copyright 2018 The Associated Press. All rights reserved. This material may not be published, broadcast, rewritten or redistributed. We strive to uphold our values for every story published.