It's been 10 years since Lawrence painter Dennis Helm succumbed to AIDS :quot; 10 years since his friends and fellow artists dreamt up the Red Ribbon Art Auction to honor his life.
A decade later, the auction has become the largest fund-raiser for Douglas County AIDS Project, the organization that helped Helm through his final years.
"He was the inspiration, really, for the art auction," said Sidney Hardgrave, DCAP's executive director. "It's always been somewhat in his memory, but this year we actually hope to have some of his pieces on display at the auction."
Even Lawrencians who didn't know Helm probably are familiar with at least one of his works. He painted the vivid, celestial murals on the walls and ceiling of Liberty Hall in downtown Lawrence. That was more characteristic of his later work, however. He was really known for his landscapes and still lifes, which often included eggs, fruits and vegetables.
"He was a most gifted artist," said Judi Geer Kellas, a fellow artist and 17-year friend of Helms, who died on June 4, 1992, at age 45.
"He struggled very hard. I think he amazed all of us that knew him. He really lived longer than anybody ever thought he would. DCAP had a lot to do with that."
Helm was one of DCAP's first clients when it opened in 1989. The agency continues to serve about 60 people with HIV/AIDS each year. The art auction, which brought in $11,800 last year, supports both client services and outreach at DCAP. This year's goal is $13,500 :quot; a little more than 5 percent of the agency's budget.
More than 40 local artists have donated work for the auction. Photographs, prints, paintings, drawings, textiles, furniture, jewelry, sculpture, pottery and other items all will be up for bid in the silent and live auctions on Dec. 1 at SpringHill Suites by Marriott. The pieces are on display from noon to 4 p.m. today at the Carnegie Building, Ninth and Vermont streets.
A serious artist
Works by Helm will be displayed but not sold at the auction. Most of them have been borrowed from people's private collections.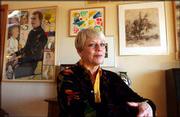 Kellas has three of Helm's artworks hanging in her home north of Lawrence. Looking at them makes her smile. So do other fond memories of her friend.
The two used to go to lunch about once a week and often talked about opening the Peace Creek Cafe, where they would serve meat loaf, mashed potatoes and other home-cooked food that Helm had grown up with as a boy in rural Reno County, near the community of Peace Creek. At one such lunch, after several months in the hospital, Helm rebuffed Kellas' declaration that their meal together was nothing short of a miracle.
"He said, 'What are you talking about?' I said, 'I didn't think we'd ever have lunch together again," Kellas said.
Helm just glared at her.
Doors open at 6 p.m. Dec. 1 at SpringHill Suites by Marriott, 1 Riverfront Plaza, for the annual art auction to benefit the Douglas County AIDS Project. The dessert and preview period ends at 7 p.m., when the live auction begins. Auctioneers are Kasey Wold and Teresa Ferguson. Tickets are $20. All proceeds will benefit DCAP.
"He didn't like sentimentality," she said, laughing at the recollection.
"He was really quite a serious artist. He took his work very seriously."
Helm studied art at Hutchinson Community College and received a bachelor of fine arts degree from Kansas University in 1972. He was an enthusiastic supporter of his contemporaries and advocated, in his last years, for a museum of Kansas artists, testifying before Kansas Legislative committees on the proposal. He also regularly donated his work for benefit auctions.
Donated art work has been on display this month at the Carnegie Building, Ninth and Vermont street. The sneak preview will continue from noon to 4 p.m. today.Artists and organizations who have donated to the auction include: Sue Ashline, Colette Bangert, John Baur, Alan Brummell, Tim Carpenter, Donna Fisher, Mary Garvin, Colleen Zacharias Gregoire, Stan Herd, Lori Hinrichsen, Shakura Jackson, Carol Gilham Jones, Cima Katz, Heather Kearns, Mary Anne King, Margie Kuhn, Lawrence Community Theater, The Lied Center, David Loewenstein, Pam Loewenstein, Nancy Marshall, Dale Martin, Sandra Craig McKenzie, Sammie Messick, Rosemary Murphy, Fred Pawlicki, Suzanne Perry, Mri Pilar, Sally Piller, Zigmund Preide, Tara Raising, Tracy Rassmussen, David Sears, Charlie Shrimplin, Celia Smith, Gabriel Stoner and Michael Hatton, University Theatre, Dave Van Hee, Kevin Venator, Shanna Wagner and Jewell Willhite.
Continued support
DCAP's benefit auction will help it keep up with serving the one to two new clients it averages each month. Three clients have died in the past year, Hardgrave said.
The funds also will assist with outreach, which DCAP is increasing toward women and younger people because "nationally, one half of the new infections are occurring in ages 25 and under," Hardgrave said. The money raised also will help pay for HIV tests, which the agency has been providing free-of-charge for about a year and a half.
"The nice thing about this is the funds are unrestricted," said Janet Horner, auction chairwoman. "So many of the grants we receive are for specific things. This allows us to kind of fill in the blanks."
The continued support :quot; from artists, the community and DCAP :quot; of people with HIV/AIDS in Douglas, Franklin and Jefferson counties is, in a way, part of Helm's legacy. It was his talent and spirit that inspired the auction's creation.
"I will always love him very, very much," Kellas said. "He meant a great deal to me. And I miss him."
Copyright 2018 The Lawrence Journal-World. All rights reserved. This material may not be published, broadcast, rewritten or redistributed. We strive to uphold our values for every story published.