It took 31 years for Baldwin High's volleyball team to make a return trip to the state tournament, but don't expect the next drought to last that long.
It wouldn't surprise Bulldogs coach Jill Brown if the Bulldogs went to Salina again next year.
"Not at all," she said. "We have a good group coming back. Out of 12 players, six are coming back - most of them juniors that played this year."
Actually, four of Baldwin's six starters were juniors, including All-Frontier league selections Emily Brown and Rachel Miles, along with Kari Garrison, who was honorable mention.
"Just going out and making that first step, getting to state, was huge," Brown said.
With a 31-10 record, including one stretch where the Bulldogs won 18 straight matches, the Bulldogs were dynamite this season.
That makes it easy to place Brown and Miles on the Journal-World's All-Area volleyball team, and name Brown its coach of the year.
Joining those two standouts are Eudora's Lauren Kracl, Mill Valley's Kelli Wilbur, Ottawa's Jenny Heck, Tonganoxie's Vanessa Wardy and Perry-Lecompton's Shelly Hendrix as the team's defensive specialist.
Emily Brown, Baldwin
A three-time all-area selection, Brown blends her size with impressive agility and smarts on the court. She was named to the all-state tournament team, and has been an All-Frontier league player the last three years. At 6-foot-2, she's an imposing setter, dishing 354 assists, but she's an even better hitter. She led the league with 411 kills, pretty much forcing Brown to run a 6-2 to take advantage of the junior's size.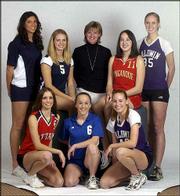 "I've had some people tell me we should run a 5-1," Brown said. "I'm not sure I'm willing to give up that hitting spot."
Shelly Hendrix, Perry-Lecompton


Hendrix impressed so many coaches with her defensive ability, she snagged a spot as the defensive specialist of the all-area team.
An All-Kaw Valley selection, Hendrix turned sure-fire kills into easy passes for the Kaws' setter, leading the team with 307 digs. And, at just 5-5, the sophomore led the 12-19 Kaws with 206 kills.
"She's incredible," said Perry-Lecompton coach Nancy Bell, who played at Kansas University.
"She gets everything up. (Defensively) She's better than most of the girls I played against in college."
Jenny Heck, Ottawa
An All-Huron league selection, Heck is a first-time all-area player who is solid defensively, with 230 digs, and a 90 percent passer. But the senior also plays bigger than her 5-7 frame might indicate. She tallied 168 kills, but those came far less often than Cyclones coach Jodi Grover would have liked.
"I never took her out of any game," Grover said. "Skill wise, she's very good, but we just couldn't get the ball to her enough. When we did get her, other girls turned to their coaches and said 'I can't stop her.'"
Lauren Kracl, Eudora
An easy choice as a three-time all-area player, Kracl's developed into an imposing, devastating hitter. The junior, also a three-time All-Frontier League selection, was the focal point for the 19-14 Cardinals. She racked up 404 kills, five a game. She's so big up front, adding 69 blocks, that it's easy to overlook her solid passing and 230 digs.
"She was always good, but I think she doubted herself some," Cardinals coach Jill Stuttler said. "This year, she was more aggressive. We could flare her in, flare her out. The only time we didn't win was when we couldn't pass the ball. Beyond that, she dominated."
Rachel Miles, Baldwin
Miles had a breakout season, in which she snagged All-Frontier League honors along with her first all-area team. A 5-8 junior, she mans the middle, leading the Bulldogs with 186 blocks. She's not physically imposing like most middles, but Miles is as effective as anyone taller.
"She blocks unbelievably well," coach Brown said. "I don't think we were that good of a blocking team this year, but when she was on the front row, we were pretty strong."
Vanessa Wardy, Tonganoxie
A first-time all-area selection, Wardy keyed the Chieftains' 25-12 season, which included nearly knocking off eventual state champ Lansing in the sub-state finals. Still, for a team that was 9-24 two years ago, Wardy represents Tongie's turnaround.
An All-Kaw Valley selection, the senior middle led the Chieftains with 223 kills and 104 blocks.
"She was our go-to player," Tonganoxie coach Tiffany Parker said. "It was one of those things where if she had a good game, we were going to have a good game. And she had a good game more often than not."
Kelli Wilbur, Mill Valley
Wilbur, who's headed to Central Missouri State next year, was the Jaguars' most consistent player in their 16-15 season. An All-Kaw Valley selection, it's her first all-area award. She amassed 222 kills, 43 blocks and 155 digs to go along with 22 aces. In short, she could do it all.
"She's an outstanding kid," Jaguars coach David Beach said. "She's been an impact player for us. She's a great hitter and good defensive player."
Copyright 2018 The Lawrence Journal-World. All rights reserved. This material may not be published, broadcast, rewritten or redistributed. We strive to uphold our values for every story published.