Hundreds of tiny eyes stare up from a table in Betty Milliken's North Lawrence front room. They're windows to the world for diminutive faces molded in bubble gum, window caulk and grapefruit skin.
The entire room is lined with shelves bearing stacks of trays, each holding another layer of strange miniature likenesses " the children of Milliken's obsessively artistic imagination.
Even friends have been horrified by the bizarre shrunken heads. But Milliken, yet an eccentric free spirit at age 91, has been slowed only by her own vision, fading after decades of working in dimensions fit for a doll house.
She's about 80 percent blind now.
In her mind's eye, though, she recalls her first experiments in portraiture: a handful of pecans that, for whatever reason, she decided would make ideal canvasses. She was 18.
"I still don't know what fascinated me to make a little face on that pecan," she says.
Her penchant for mugs never went away. She can't really explain why.
"I don't know. Maybe when I looked in the mirror I thought, 'I can do better than that,'" she says, giggling.
Utterly self-taught, Milliken's media through the years have been photography, painting and sculpture. She sings a charming soprano and plays a mean ukulele.
Her work is displayed at the Grassroots Art Center in Lucas and will be for sale Saturday at the Bizarre Bazaar at the Lawrence Arts Center.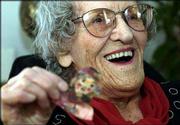 "I've got hobbies, so I never get lonesome," Milliken says. "I can reminisce through some of these hobbies and make a regular movie out of it."
Crafty crafter
Milliken " petite, slender but hardly fragile " plops down on her couch. It's draped in leopard print fleece and a patchwork of crocheted afghans.
"This is my throne," she says.
She slips off her bright red sandals and pulls her right foot nearly to her chest. (Remember, she's 91.) She stays limber and light on her feet by practicing accupressure. She swears by the kneading therapy; it's her secret to longevity.
The secret to her unique artistry lies in thrift and whimsy.
She converts ordinary household items " the pulps and skins of fruits, bread dough, baby powder, chewing gum, cotton balls, roofing tar, tub and tile grout " into inventive art objects.
Born in 1911 in Detroit, Mich., Milliken was a child of the Great Depression, always very much aware of her immigrant Hungarian family's meager financial means. It forced her to be resourceful, and the habits stuck.
Literally.
Chewing gum, she discovered, works well as a material to make molds because it sticks in place while she works it into the shapes she desires. How do you turn gum into clay? You chew it.
"You gotta get all the sugar out of it. You make it hard by leaving it set out. Then you make patties out of it," she explains, mashing her hands together.
"I've chewed everything. The Big Red is good if you like that flavor. Cinnaburst holds it better than anything."
Milliken has learned through trial and error what works best.
One tray of cameos holds 20 or 30 versions of the same little boy's face. Each cameo is made of a different combination of substances.
"She's an experimenter," said Milliken's daughter, Lawrence artist Nancy Hubbel. "She considers herself an inventor.
"If it's around, she collects it and uses it."
One of her cameos wears a tiny baby blue hat Milliken knitted years ago. Another bears locks of Milliken's own hair.
Grapefruits and grassroots
Milliken worked in a Florida grapefruit factory in the 1970s. Now, grapefruit skins have become one of her main work surfaces.
"Who ever thought?" she says, smiling at the irony.
Milliken lets the skins dry, turn brown and a little leathery before piercing them from behind and stuffing bits of cotton between the membrane and the rind to create relief. Faces emerge. She paints the cheeks and other features, sometimes adding clothes she clips from magazines, and seals the face with shellac or clear nail polish.
In keeping with the definition of a "grassroots" artist, Milliken has no formal artistic training. Back when bread didn't cost more than 10 cents a loaf, she'd check out a dozen books at a time from the local library and extend the due dates until she had scoured every last word. That's how she taught herself just about everything beyond her eighth-grade education.
She hasn't been able to read words on a page or work on such a small scale without assistance since last December, when her second eye began to succumb to macular degeneration. She gets help from her daughter and son-in-law, and she's slowly learning to use a tool she got from Vocational Rehabilitation that lights and magnifies objects.
"She's worked in such tiny detail," Hubbel says. "Now we're trying to work bigger."
For Milliken " forever the optimist " the size doesn't really matter so much as long as she can get the artistic impulses in her mind out into the tangible world.
"That's what I want to do with these eyes," she says.
Copyright 2018 The Lawrence Journal-World. All rights reserved. This material may not be published, broadcast, rewritten or redistributed. We strive to uphold our values for every story published.