Jerusalem — Israel on Saturday said its troops fatally shot a U.N. official during a West Bank firefight with Palestinian gunmen because he had what appeared to be a gun and because Palestinians were firing at troops from inside the U.N. compound.
The army released its preliminary findings into the Friday gunbattle in the Jenin refugee camp, saying Palestinian gunmen had used the U.N. compound as cover to fire at Israeli troops who were searching for a wanted militant.
Iain Hook, a British senior manager of UNRWA, the U.N. agency helping Palestinian refugees, was killed inside the compound - the first senior U.N. official to die in more than two years of Israeli-Palestinian fighting.
Calls placed to the United Nations seeking comment on the army statement weren't returned Saturday.
The army findings were released during a day of fresh violence in which two Palestinian militants blew themselves up on an explosives-packed boat off the Gaza Strip, injuring four Israeli soldiers on a nearby navy patrol boat in a rare attack from the sea. The militant Islamic Jihad claimed responsibility.
Israel also pressed its occupation of the West Bank town of Bethlehem, reoccupied Friday after a suicide bombing in Jerusalem killed 11 people, four of them children. Israeli troops demolished four homes of militants, arrested 26 people, and searched the office of Bethlehem's governor, witnesses said.
Israel Army Radio had reported Saturday that an initial investigation into Hook's death showed that an Israeli soldier had shot him as he came out of an alley from where Palestinian gunmen had been firing earlier, mistaking a cell phone he was carrying for a hand grenade.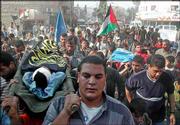 An army statement said two soldiers fired at Hook inside the U.N. compound because he had "an object that appeared to be a gun."
Late Saturday, the Palestinian leadership decided to award Hook its highest medal, the Al Quds Sharif medal, or the Noble Jerusalem medal, and declared him a "martyr" of the Palestinian people, Palestinian officials said.
Palestinian leader Yasser Arafat also sent a letter of condolence to Hook's family, the officials said.
During the funeral of an 11-year-old Palestinian boy also killed in the Jenin clashes, some 2,000 mourners marched through the refugee camp Saturday, carrying an empty coffin draped with a U.N. flag in memorial to Hook.
They unfurled banners reading, "Israel killed Hook."
Copyright 2018 The Associated Press. All rights reserved. This material may not be published, broadcast, rewritten or redistributed. We strive to uphold our values for every story published.