St. Louis — Donna Knott is spreading bad taste around the world, one pair of Go-Go boots at a time. Her vintage wholesaling business in St. Louis has become a portal to Hollywood for the old, and often unworn, treasures hiding in the nation's closets.
Knott isn't shy when explaining Hullabaloo's niche.
"We specialize in bad taste. We like things that get people to say 'Oh my God, that's horrible,"' Knott said.
With a limited supply of vintage goods :quot; you can't exactly manufacture the past :quot; few vintage clothing wholesalers exist. What's carried Hullabaloo toward the top of the fashion recycle bin is its "deadstock" :quot; unworn, period pieces in bulk. Thousands of ponchos, bloomers, and hot pants sit in warehouses, and it's Knott's job to find them.
Culling from estates, warehouses and whoever happened to call during the past 18 years, Hullabaloo has amassed 600,000 pieces of clothing, jewelry, shoes, and memorabilia from the 1940s to 1990s. Of those, Knott estimated half are deadstock.
The company's 35,000-square-foot warehouse could easily make it into the record books for having the most polyester under a single roof. You don't need to venture into the warehouse to see the gems of days past. Just watch TV or go to the movies. Hullabaloo's merchandise has been used in more than 100 movies and TV shows and worn by musicians and magazine models.
In mid-November, ordinary lovers of vintage clothing were offered their first access to the company's warehouse. In an effort to clear out stock and make room for new stuff, Hullabaloo offered customers three full days to rummage through stacks of clothes, accessories and other collectibles. It was quite a sale: fill a brown grocery bag for $5. Customers were literally climbing the racks, said saleswoman Bridgette Sesti.
A collector's dream
As a child growing up in North St. Louis, Knott collected "stuff" :quot; rocks, bottles and broken jewelry. During the years, people began giving her all sorts of things, especially clothes. One day, Knott said she realized she just had too much.
"So I opened up the store to use that as my collection. I'm still collecting stuff, but it's a way to make money," said Knott, 45.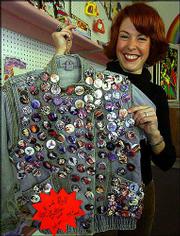 Immersing herself completely in times past, Knott named the store after the 1960s variety TV show of the same name. Curiously one of her first major bulk buys :quot; 750 pair of white Go-Go boots, $2 each :quot; was manufactured by a company likewise known as Hullabaloo.
Over the years, Knott has gone from retail to wholesale, and now to both with a once-seasonal but now permanent costume shop a few blocks from the warehouse. She's journeyed to estate sales and warehouses in Alabama, Virginia, Massachusetts and points in between, buying boxes upon boxes that would make even a pack-rat weep. Knott's voicemail is always full of willing sellers.
With every passing year, more items become vintage and a few years into her retail business, Knott had so much stock she decided to wholesale. She's realized it's not the average consumer who needs a dozen identical Superfly vests, it's the fashion and entertainment industries. Her customers include costume shops, vintage clothing stores, fashion boutiques, novelty shops and theater groups.
Big spenders
Movie costume designers call up Hullabaloo knowing they'd rather have five of the same shirt on hand than trying to make a bullet hole disappear for a reshoot, Sesti said.
Hullabaloo's access to volume also eases the daunting task of dressing a slew of extras. Period film designers need everyday clothing for extras to blend into the scenes, such as in the movie "Boogie Nights," which Knott said featured 90 percent Hullabaloo clothing. "Man on the Moon" was one of Hullabaloo's biggest films, with $40,000 in sales, she said.
Costume designer Mary Zophres has ordered from Hullabaloo for years via the company's catalog, and last October made her first trip to the warehouse for her work with Steven Spielberg's "Catch Me If You Can" :quot; which opens Christmas Day.
Zophres said she spent between $11,000 and $15,000 on items for several hundred extras. Actor Leonardo DiCaprio will be wearing several of Hullabaloo's two-piece 60s suits.
"We got a lot of stock for not a lot of money," Zophres said. "We had to do a lot of digging to find what we wanted but it was definitely fruitful."
Most of Hullabaloo's items are sold in bulk. There's a 24 pair minimum on bellbottoms. Sheer scarves from the 50s through 70s come in packs of 12, with a price break for orders of 48 or more. Workers pull items from boxes, shelves, racks and piles in the warehouse and send them all over the world.
Global hunt
Hullabaloo officials have made semiannual jaunts to vintage-hungry Japan for the past 15 years, and in the past have gone regularly to Europe. Workers also venture to costume shows throughout the United States.
Knott doesn't just rummage through boxes and buy certain items. She gambles and takes the whole lot. She and Sesti are still going through a bunch of 80s jewelry, which they transported from Rhode Island in a tractor trailer two years ago. Among the jewelry are animal print earrings, shoulder dusters and bangles of various colors. Hullabaloo workers also will use the pieces to make some of their own jewelry.
About a year and a half ago, Knott ran across a woman in nearby Belleville, Ill., who was moving into a retirement home and had 1,000 pair of shoes :quot; still in boxes :quot; to get rid of. Sesti said the woman had only a few different styles of shoes but in every color imaginable.
"She had clothing from the 50s and 60s in her kitchen closet," Sesti said. "It's amazing what some people have in storage. People stockpile stuff. They find something they like and they order it in double or triplicate."
Copyright 2018 The Associated Press. All rights reserved. This material may not be published, broadcast, rewritten or redistributed. We strive to uphold our values for every story published.