Cape Canaveral, Fla. — Space shuttle Endeavour streaked into orbit Saturday night after weeks of delay, carrying up a new set of residents and another massive building block for the international space station.
NASA had feared storms in Spain might postpone the flight for the second day in a row. But in the end, the rain held off at one of the two overseas emergency landing strips and managers cleared Endeavour and its seven astronauts for takeoff.
"Looks like we've got a good vehicle and good weather tonight for you," said launch director Mike Leinbach. "Have a great flight. I hope you have a good turkey dinner packed for Thanksgiving."
"From the bridge of Endeavour, we're ready to set thundering sail," replied commander James Wetherbee.
Endeavour roared to life and lit up the clear night sky for miles around. The rocketship was visible for seven minutes, resembling a bright star as it arced over the ocean.
The space station and its three residents, on board since June, were soaring over Austria when Endeavour blasted off at 7:49 p.m. to come get them.
"Excellent!" astronaut Peggy Whitson said from the space station, where Endeavour is due to arrive on Monday.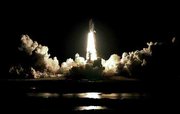 The delays were starting to pile up for NASA's latest delivery trip to the space station, in need of a fresh crew, another new girder and spare parts for a balky air-cleanser.
Endeavour should have flown in October, but was grounded until November because of cracked fuel lines found throughout the shuttle fleet. Then during a Nov. 11 launch attempt, oxygen leaked from a cracked hose in the astronauts' supply line. While trying to fix that, workers damaged the shuttle's robot arm; fortunately, no repairs were needed.
And then the weather interfered.
Kennedy Space Center's director, Roy Bridges, congratulated the launch team for getting the job done safely. The only problem during liftoff was a valve believed to be stuck open in Endeavour's right orbital-maneuvering engine.
Endeavour is loaded with a $390 million space station girder almost identical to one launched last month. Two crew members :quot; including the first American Indian ever launched into space, John Herrington :quot; will hook it up during three spacewalks this week.
Copyright 2018 The Associated Press. All rights reserved. This material may not be published, broadcast, rewritten or redistributed. We strive to uphold our values for every story published.