New York — Baz Luhrmann is upfront about the challenge: "Bringing Italian opera to Broadway is not the easiest way to have a hit," he says with a laugh.
"I'm used to it. Everything I've ever made has been an enormous risk ... with people saying, 'Are you crazy?' I'm not that heroic or brave. But there are things that for very personal and vivid reasons I want to go and do."
The 40-year-old Australian director already has made a name for himself with such films as the high-energy "Strictly Ballroom," a punkish, pop-flavored "William Shakespeare's Romeo + Juliet" and the even more wildly extravagant "Moulin Rouge."
Now, he's coming to New York with a $7.5 million, populist production of "La Boheme," plunked down in 1950s Paris, sung in the original Italian (with English subtitles) and starring a cast of youthful, sexy singers who could surprise both opera purists and Broadway show folk.
"'La Boheme' really was the television of its time :quot; it plays to the child and to the adult," the director states emphatically. "And if you are looking to play to everyone, you are not going to find them in a state theater or an opera house, you are going to find them on Broadway."
Opera has had an odd, fitful history on Broadway.
Disney's pop version of "Aida," with a score by Elton John and Tim Rice, has been a considerable hit, still running after more than two years. But then, there was "My Darlin' Aida" (1952), which time-traveled Verdi's melodies to the Confederacy of the Civil War. It lasted three months.
Contemporary opera composers have had mixed success. Gian Carlo Menotti scored with two productions :quot; a double bill of "The Telephone" and "The Medium" (1947) which ran for over 200 performances and "The Consul," (1950) which lasted for eight months and won the New York Drama Critics' Circle prize for best musical of the season.
Kurt Weill's "Street Scene" (1947) and Marc Blitzstein's "Regina," based on "The Little Foxes," both flopped on Broadway, but later had runs in opera houses around the world.
Producers hope "La Boheme" will do better. Advance ticket sales are strong, although the producers declined to reveal exact figures. They started to climb after the theater's box office opened in October and after television stations in the New York area began showing a very stylized, 30-second commercial directed by Luhrmann, his first.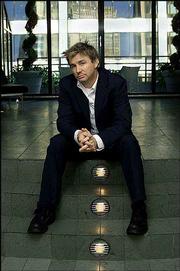 Luhrmann sits in the minimalist penthouse of a midtown Manhattan hotel, whose spartan decor can only be described as mausoleum chic. Lighted votive candles on the floor next to a fireplace give a vaguely monastic feel to the room.
The boyish director, sporting unruly blond hair, supplies his own ebullience. Dressed in the ubiquitous black :quot; black pants, black jacket and black shoes :quot; plus a formal white shirt and the required white T-shirt peeking through, he radiates a confidence that is disarming.
But then, a conversation with Luhrmann does not suffer from silences. Ask a question and he's off and running, sometimes in several directions at once. In a flash, you understand and appreciate where all the exuberant excesses of "Moulin Rouge" came from.
The director has been obsessed with "La Boheme" for a long time. He staged it in Australia at the Sydney Opera House in 1990. It was that version producers Jeffrey Seller and Kevin McCollum saw on American public television when they were working on another version of Puccini's opera, a little something called "Rent."
"They used it as an example of how 'Rent' should be," Luhrmann said.
"I agreed that we should revisit 'La Boheme' and deal with the issue that we began with years ago, which is, addressing this work as if it were being done for the first time."
So far, the results have been encouraging. The production was rapturously received during its fall tryout in San Francisco by both critics and audiences. It quickly sold out, and Luhrmann was pleased by the people he reached. Some two-thirds were nonoperagoers.
"There was no demographic," he said. "One of the beautiful things happening was fathers taking their kids and telling them the story. But then, there were groovy, young 18-year-olds, people on date nights, and lots of old ladies, in the audience, too."
Copyright 2017 The Associated Press. All rights reserved. This material may not be published, broadcast, rewritten or redistributed. We strive to uphold our values for every story published.