Clocks are popular with collectors for many reasons. They tell time. They are attractive. Many are made with fancy wood or metal trim, porcelain cases, enameled dials and figural parts. Collectors always like collectibles that move and make noise. Most clocks do both. Figural clocks are especially popular. One very unusual, amusing figural clock was made by the Waterbury Clock Co. of Waterbury, Conn., about 1910. It is an 8-day carved oak clock with weight-driven movement. Two carved Pilgrim heads are at the top. There is also a gun showing behind the clock. The clock strikes every hour and half-hour. It is made in a style that would fit into a Colonial Revival setting or in a Mission home.
My father brought a little metal car home from Germany after World War II. He found it in the ruins of a small town. The car is about 6 inches long and has a removable key that makes its motor run. My father always kept the car in a box. We could take it out every now and then to run it. When it is wound, it moves to the end of a table, then turns so it won't fall off. It is marked on the bottom: "Schuco, Patent, Made in Germany, 1010."
Schuco toys were made by Schreyer and Co., a manufacturer that worked in Nuremberg, Germany, into the 1950s. Schuco toys are eagerly sought by collectors. Your car is called a "turning car" because of its ingenious mechanism. The 1010 model is an early one, introduced in 1939. Because you have the key and your car works, it could sell for more than $100. If the box your father kept it in is the car's original box, the value of the toy would increase substantially.
After my mother died, we went through her jewelry. It is all costume jewelry, decorated with rhinestones, but we like a few of the pieces very much. One is a pin made of three separate pieces. Two colorful rhinestone bird clips, about an inch high can be attached to a third piece, a plain inch-wide pin, to form a brooch. Is this an unusual piece?
Your three-piece brooch is called a "duette" or "clipmate" because it features a pair of matching clips. The clips could be removed from the pin for use on a dress or fur. For example, one clip could be put on each lower corner of a dress' square neckline. Duettes were popular during the 1930s and '40s and are not easy to find today. Duettes made and marked by Coro or Eisenberg sell for $200 or more. An unmarked one sells for about half as much.
I own a small collection of porcelain vases and dishes marked with a drawing of a pagoda surrounded by the words "Hand-Painted Nippon." Can you give me any information based on the mark?
Porcelain marked "Nippon" was made in Japan from 1891 to 1921. Nippon is the English spelling of the Japanese word for Japan. The U.S. government required imports to be marked with the country of origin starting in 1891. In 1921, new regulations required that the country of origin be written in English. There are hundreds of different Nippon marks used by various Japanese firms. The "Pagoda Hand-Painted Nippon" mark is one of those marks.
For close to 50 years, I've had a toy bank that looks like a can of Rival dog food. It was made as a bank, with a coin slot on the top. Can you give me any idea when or why this was made?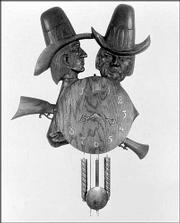 Advertising toys and banks are just a few of the products used by American companies to make their product names familiar to potential customers. A Rival Dog Food bank like yours was an accessory to a 1956-'57 Buddy "L" Rival Dog Food Delivery van. Buddy "L" was a famous brand of pressed steel toys.
Tip
Paper collectibles, like sports cards, trading cards, old newspapers, prints or books, should be kept in an area that is not too wet and not too dry. Experts say 50 percent humidity is best. So if you live near an ocean, you need a dehumidifier. If you live in a desert, you need a humidifier.
¢
The Kovels answer as many questions as possible through the column. By sending a letter with a question, you give full permission for its use in the column or any other Kovel forum. Names and addresses will not be published. We cannot guarantee the return of any photograph, but if a stamped envelope is included, we will try. The volume of mail makes personal answers or appraisals impossible. Write to Kovels, (name of your newspaper), King Features Syndicate, 888 Seventh Ave., New York, NY 10019.
Copyright 2018 The Lawrence Journal-World. All rights reserved. This material may not be published, broadcast, rewritten or redistributed. We strive to uphold our values for every story published.