Norman, Okla. — Ebi Ere started quickly for No. 7 Oklahoma and didn't slow down much.
Ere scored the Sooners' first nine points and finished with 27 Saturday as Oklahoma beat Princeton 82-63 in the championship game of the Sooner Invitational.
Ere also had seven rebounds, six assists, two steals and a blocked shot. He was called for a technical foul, for hanging on the rim after a dunk.
"He's a player, there's no other way to put it," Princeton coach John Thompson said. "There's not too many facets of his game where you can't say he's at least good at it."
Jabahri Brown scored 14 and Hollis Price had 13 for the Sooners (2-1), who shot 53.6 percent and outrebounded the Tigers 34-24.
The Sooners took a little while to get going against Princeton's zone defense, but Ere made four free throws, hit a 3-pointer and then scored on a jumper in the lane. His second jumper started a 15-0 run that gave Oklahoma a 22-9 lead midway through the first half.
"When he's making his 3s, he becomes really, really good," coach Kelvin Sampson said. "He's also a very good offensive rebounder and can make free throws. He's just a load on that wing."
Ere was one of five players who scored during the big first-half run. Five of the six baskets came in the paint, including a fastbreak layin by Brown on a lob pass from Ere.
Point guard Quannas White, who had five assists, said getting the ball to Ere only made sense.
"I think all our teammates know, when Ebi's getting his offensively, we've got to get the ball in his hands," White said.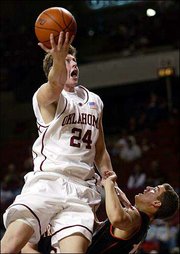 Andre Logan led Princeton with 16 points.
No. 3 Texas 81, Stephen F. Austin 55
Austin, Texas - Brandon Mouton scored 18 points and James Thomas added 13 points and 15 rebounds as No. 3 Texas rolled past Stephen F. Austin.
The Longhorns (2-0) made 10 of 37 3-pointers in their home opener and struggled at times to find their shot, but otherwise lived up to the highest ranking in school history.
The Longhorns outrebounded Stephen F. Austin 52-33, held the Lumberjacks (0-1) to 31 percent shooting and forced 20 turnovers.
Percy Green led Stephen F. Austin with 14 points.
Freshman Brad Buckman added 12 points and T.J. Ford and Royal Ivey each scored nine. Ford also dished out 10 assists, hitting the double-digit mark for the 16th time in his career.
BYU 73, K-State 64
Charlotte Amalie, U.S. Virgin Islands - Travis Hansen scored 19 points as Brigham Young beat Kansas State 73-64 on Saturday night.
Mark Bigalow added 18 points for the Cougars (2-0), and Jared Jensen had 10. Marques Hayden led Kansas State (0-1) with 20 points, Tim Ellis added 14 points and Frank Richards had 13.
Baylor 81, Alcorn St. 61
Dallas - John Lucas had 21 points and seven assists and R.T. Guinn added 20 points, helping Baylor beat Alcorn State in the Lone Star Basketball Classic.
Lee Cook led Alcorn State with 28 points, and Tori Harris added 15 for the Braves, who stayed close until late in the second half.
Baylor (1-0) closed the game with a 24-6 run, holding Alcorn State (0-2) to one field goal during the next seven minutes.
Baylor, which led 38-35 at the half, broke an 11-game losing streak away from Waco, Texas.
Alaska Fairbanks 64, Nebraska 61
Fairbanks, Alaska Jake Muhleisen had 25 points, but it wasn't enough as Nebraska lost to Alaska Fairbanks.
Copyright 2018 The Associated Press. All rights reserved. This material may not be published, broadcast, rewritten or redistributed. We strive to uphold our values for every story published.