Los Angeles — Shaq came back, and the Lakers immediately got better.
Shaquille O'Neal had 17 points and seven rebounds in his season debut Friday night while playing 21 minutes of the Lakers' 86-73 victory over the Chicago Bulls.
O'Neal, coming back from September toe surgery, showed he could still make the big play, bringing a roar from the sellout crowd on a spectacular jump, catch and dunk off a lob by Rick Fox to give Los Angeles a 75-65 pad with 5:10 remaining.
Kobe Bryant scored 21 for Los Angeles, which ended a three-game losing streak and won for just the second time in the last nine games.
The three-time NBA defending champions had struggled without O'Neal, stumbling to a 3-9 start and falling into the Pacific Division cellar.
Donyell Marshall had 14 points and 14 rebounds, and Tyson Chandler had 12 points and eight rebounds for the Bulls, who lost their fourth straight.
The game was close until Bryant dunked and then hit a three-pointer in the final 1:16 of the third period as Los Angeles opened a 69-58. The Bulls went cold after pulling within 69-65 early in the fourth quarter.
O'Neal didn't start, but came off the bench to a standing ovation in the first quarter.
O'Neal made eight of 13 shots and was 1-of-2 from the free throw line.
Celtics 105, Hawks 98, 2OT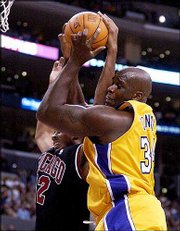 Boston - Paul Pierce scored 36 points - including four straight in the second overtime to give Boston the lead for good - as the Celtics defeated Atlanta. The teams went into the second overtime tied at 94 after Pierce was unable to convert on a drive to the basket with 1 second left in the first overtime. Tony Battie gave the Celtics a 96-94 lead, and Shareef Abdur-Rahim tied the game before Pierce hit back-to-back shots to put the Celtics up for good.
76ers 90, Raptors 80
Philadelphia - Allen Iverson scored 31 points and Keith Van Horn added 13 points and 10 rebounds, leading Philadelphia past Toronto. Philadelphia won for the fifth time in six games, improved to 7-0 at the First Union Center and 9-4 overall. Antonio Davis had 27 points and 11 rebounds, and Alvin Williams added 15 points for the Raptors, who have lost four straight.
Spurs 95, Grizzlies 86
San Antonio - Tim Duncan had 28 points and 15 rebounds as San Antonio beat the Grizzlies for the 21st straight time, a victory that dropped Memphis' record to 0-13. Grizzlies rookie Drew Gooden, averaging 15.8 points and 6.5 rebounds, was held to four points and three rebounds.
Bucks 95, Warriors 91
Oakland, Calif. - Ray Allen scored 31 points and hit a key three-pointer down the stretch as Milwaukee couldn't stop Erick Dampier but hung on to beat Golden State. Dampier had a career-high 31 points and 14 rebounds for the Warriors, who held the lead for 31¼2 quarters but couldn't execute down the stretch. The Bucks scored seven of the game's final eight points.
Pacers 106, Magic 70
Indianapolis - Ron Artest had 15 points and held NBA scoring leader Tracy McGrady 20 points under his average as Indiana beat Orlando for the best start in franchise history. It was Indiana's ninth straight victory and boosted its Eastern Conference-leading record to 10-1.
Nets 120, Cavaliers 79
East Rutherford, N.J. - Kenyon Martin had 21 points and 10 rebounds and New Jersey hit 14 of its first 15 shots. The energetic Nets hit 16 of 20 shots in the first quarter after being ripped by coach Byron Scott over a pitiful performance against Boston on Wednesday. The Nets' points, margin of victory (41) and final shooting percentage (53.7 percent) were all season-highs.
Rockets 93, Wizards 86
Houston - Yao Ming scored 18 points and blocked three shots in his first NBA start, and substitute starter Juaquin Hawkins led a third-quarter spurt as Houston defeated Washington. After trailing 45-44 at the half, the Rockets outscored the Wizards 31-16 in the third quarter, including a 17-2 run early in the period. Hawkins had 13 of his 14 points in the quarter.
Pistons 75, Heat 72
Miami - Richard Hamilton scored 17 points and Ben Wallace pulled down a season-high 22 rebounds to help Detroit rally past Miami. The Pistons beat the Heat for the second time in three nights.
Hornets 105, Knicks 97, OT
New Orleans - Jamal Mashburn scored 25 points and Jamaal Magloire and P.J. Brown each scored 20 as New Orleans remained unbeaten at home, defeating New York in overtime. Brown had 10 rebounds for his seventh double-double of the season, while Magloire grabbed 11 for his second double-double in two games.
Kings 118, Suns 101
Sacramento, Calif. - Bobby Jackson scored 24 points to lead six players in double figures as Sacramento won its fourth straight game.
Nuggets 72, Clippers 70
Denver - James Posey hit an 18-foot jumper at the buzzer to give Denver a victory over Los Angeles . Juwan Howard scored 18 and Posey had 16.
Copyright 2018 The Associated Press. All rights reserved. This material may not be published, broadcast, rewritten or redistributed. We strive to uphold our values for every story published.