President Bush met with Robert Kaplan in March 2001 to ask him how to convince NATO members to allow seven additional nations to join.
That discussion, Kaplan said, was proof the Bush administration didn't suddenly become interested in globalism with the Sept. 11, 2001, terrorist attacks, as some critics have charged.
"I've rarely met someone who was so on top of issues in so many obscure countries," Kaplan said. "I never believed this administration was isolationist. This was a fully engaged operation from the get-go."
Kaplan, a best-selling author and foreign correspondent for Atlantic Monthly, spoke Thursday at Kansas University, the same day NATO voted to admit as members the seven nations Bush discussed " Latvia, Estonia, Lithuania, Bulgaria, Romania, Slovakia and Slovenia.
About 100 people attended Kaplan's colloquium on Afghanistan Thursday afternoon at the Adams Alumni Center. About 650 attended his lecture, "The Roots of Future Conflict," Thursday night at the Kansas Union.
He also will lead a colloquium on the Middle East at 10 a.m. today at the Adams Alumni Center.
Kaplan said the United States was right to use military force in Iraq if other methods didn't work.
"We've got to have the threat of military force," he said. "Otherwise, these sanctions don't mean anything."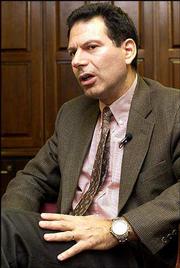 He said such force should focus on convincing the Iraqi military to revolt against Saddam Hussein, instead of destroying Iraq's infrastructure. Destroying the infrastructure would have too much impact on the world economy, since it would harm oil production.
Kaplan said the U.S. military was strong enough to pursue war in Iraq while it finished its pursuit of Osama bin Laden and terrorists associated with him.
Kaplan says most media and Americans get the wrong impression when they talk about "rebuilding Afghanistan." Afghanistan will never be a smaller version of the United States, he said.
"Even at the high-water mark, the central government never really had control over all of the country," he said. "It's irrational to believe we can create a full central government in Afghanistan. The war on terrorism in Afghanistan, reduced to its essentials, is about making sure the real estate of Afghanistan is never, or at least not in the foreseeable future, used for the planning or carrying out of any overt attacks against the United States."
While most foreign correspondents talk about the topic of the day, Robert Kaplan has made a career of talking about the hot spots of tomorrow.
Much of his evening speech focused on his current list of places that he thinks will undergo political turmoil in the next few years, including Kenya, Nigeria, Venezuela, Pakistan and central Asia.
He bases that prediction on several factors, including the number of young males there, the rate of shift from rural to urban areas and the availability of drinkable water.
That somewhat prophetic stance is what sets Kaplan apart from many analysts, said Felix Moos, a KU professor of anthropology who uses Kaplan's book, "To the Ends of the Earth," as a text for one of his classes.
He said Kaplan was saying the Balkan nations would undergo political turmoil long before others.
"It was a fire bell in the night among those who later saw what was going to come," Moos said. "There are few people like Robert Kaplan."
Copyright 2018 The Lawrence Journal-World. All rights reserved. This material may not be published, broadcast, rewritten or redistributed. We strive to uphold our values for every story published.