Topeka — Shawnee County District Judge Marla Luckert was appointed Wednesday to the Kansas Supreme Court, the second woman to serve on the state's highest court.
Luckert, 47, replaces Justice Fred Six, who is retiring at the end of his term on Jan. 13. She joins Chief Justice Kay McFarland, who was appointed to the court in 1977.
Luckert said she was humbled by the responsibilities awaiting her.
"I recognize that as a justice of the Supreme Court, I will be part of the court that acts as a guardian of the Kansas Constitution, the U.S. Constitution and the laws that govern our democracy," said Luckert, who was joined by her husband and three daughters.
Gov. Bill Graves will have one more appointment to the court before his term ends Jan. 13, naming a replacement for Justice Tyler Lockett, who also is retiring in January.
Luckert was among three nominees earlier this year to replace retiring Justice Edward Larson. Graves appointed Lawton Nuss, 49, of Salina for that vacancy on the court.
Larson, Lockett and Six are retiring because of the mandatory retirement age of 70.
Graves said he had been anxious for Luckert's name to return to him for consideration.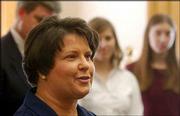 "I think she'll bring both her great legal skills and her administrative ideas and vision to the Supreme Court at a time when the court is changing and facing some challenges," Graves said.
He noted the budget constraints and the need to move large quantities of information between the courts and public.
Luckert, a native of Goodland, is the third appointment Graves has made to the Kansas Supreme Court, joining Larson and Nuss.
Graves said he had no problem appointing a Democrat in Luckert, who described herself as a moderate.
"There has been no litmus test for me," Graves said.
She has been chief judge of the 3rd Judicial District in Shawnee County since 2000 and a district judge since April 1992. Before that, she was with a Topeka law firm. Gov.-elect Kathleen Sebelius will name a replacement for Luckert on the district court.
As a district judge, she presided over the 2001 case of former Kansas Lottery employee Richard Lee Knowlton, who was convicted of altering lottery tickets. She also ruled that the Rev. Fred Phelps Sr. must register and pay property taxes on a truck used in his crusade against homosexuality.
Luckert also upheld the legality of the state's 1992 school finance law, which reformed the way more than $2 billion in state aid is distributed. Her ruling was later upheld by the Kansas Supreme Court.
Other members of the court are Justices Donald Allegrucci, Bob Abbott and Robert Davis.
Graves appointed Luckert from three nominees he received Monday from a nine-member commission. The other names were Riley County District Judge David Stutzman and Miami County District Judge Stephen D. Hill.
Copyright 2017 The Associated Press. All rights reserved. This material may not be published, broadcast, rewritten or redistributed. We strive to uphold our values for every story published.