Wichita — After a summer of drought, Kansas cattlemen are heading into this winter with hay supplies not only tight but at near record prices, analysts say.
All hay production was down this year. Pastures shriveled under heat and lack of rain. The poor grazing created heavy demand for supplemental feeding this summer, further dwindling winter stockpiles.
"You really need to play defense the rest of this year because none of us know how the winter will be played out," said Tom Morgan, president of Olathe-based Morgan Consulting Group. "The state of Kansas has moved into a wetter pattern, which could mean more snow."
That worries Dighton cattlemen like Don Hineman, who has already cut his cattle herd 20 percent because of the drought. He is contemplating cutting it another 15 percent just to make sure he has enough feed on hand.
"My carry-over silage will enable me to get through the winter," he said. "It will be kind of tight, and we will be out of feed by spring, but we should be able to make it through the winter."
While the state's alfalfa crop took heavy losses this summer, cool-season grasses such as fescue and brome were harvested early before the drought took hold in eastern Kansas, Morgan said.
"The eastern part of the state was able to get up grass hay before the drought hit," Morgan said. "The western part was very different :quot; if it wasn't under irrigation, you didn't get any."
Meanwhile, hay prices have been relatively strong and trending higher. In Kansas, the state reached record price levels for alfalfa hay in September and other types of hay also were approaching record levels, Morgan said. Grass hay prices remained steady in October, while alfalfa prices fell some that month.
Moderating that impact to some extent was the liquidation of beef cattle herds :quot; mostly between June and September. Many of those herds were in western Kansas, where the drought devastated summer pastures.
The sell-off has slowed in the past four to six weeks in part because of recent rains that have greened fall pastures and government drought disaster payments for feed, Morgan said.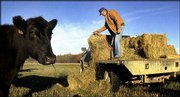 "We may run into spot shortages or worse if we have a very wet, cold winter. If we have an open winter, where it is warm and not much snowfall, we will probably make it OK," he said. "There is a fair bit of grass hay in the eastern part of the state, but the western part is definitely going to be short on grass hay."
Morgan said higher quality hay is particularly in short supply.
Also down is the inventory on alfalfa pellets, probably as much as 10 percent to 15 percent this year because of higher prices for the raw product and the drought, said Wanda Cobb, executive vice president of AFIA-Alfalfa Processors Council in Olathe.
"I don't think there is a lot of inventory on pellets :quot; if it is a bad winter, it would be a problem," she said.
At Hineman's farm, the 150 acres he planted for hay or silage was so bad because of the drought he couldn't use any of it for his cattle.
"It didn't produce enough tonnage to harvest and the (toxic) nitrate was so high I can't graze it," Hineman said. "It is just a complete waste :quot; except it is good habitat for pheasant."
Copyright 2018 The Associated Press. All rights reserved. This material may not be published, broadcast, rewritten or redistributed. We strive to uphold our values for every story published.