Fort Hays State University's women's basketball team had to travel more than 200 miles for Sunday's game against Kansas University.
Thanks to Steve and Connie Rhodes, the Tigers had a home-cooked meal Saturday night before their 73-56 exhibition loss to the Jayhawks at Allen Fieldhouse.
Katie Rhodes, Steve and Connie's daughter and 2001 Free State High graduate, is a sophomore guard for the Tigers.
"It's always nice to be at home," Katie Rhodes said. "We had lasagna, salad and bread and brownies. It was good stuff."
Rhodes grabbed four rebounds and scored six points in 18 minutes, going 1-of-4 from the field and 4-of-6 from the free-throw line.
"I would have liked to hit a couple more shots," Rhodes said, "but that's just the way it goes."
Her lone field goal was an important one. With five seconds left in the first half, Rhodes grabbed her own rebound and made a layup, giving the Tigers a 35-33 halftime lead.
"It came at a good time," Rhodes said. "It gave us a lot of momentum going into the locker room."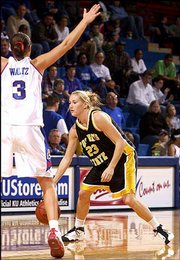 Although Fort Hays State lost, Rhodes said she was happy to be home for a couple days.
"It's nice to have a home crowd," Rhodes said. "I happened to see a lot of familiar faces in the stands. There's just a lot of emotions and a lot of excitement being back here. During basketball season there's not too much time to go home, so I'll appreciate it while I'm here."
Sunday also was a homecoming of sorts for FHSU freshman guard Lindsey Dieterich, an Ottawa High graduate. She was 0-for-2 from the floor after entering the game early in the second half.
"I was nervous at times, but it was exciting to just get out there and start playing," Dieterich said. "Once I stepped out on the court, I felt comfortable there. It was good to get those nerves out of the way."
Dieterich, whose sister Jennifer was the 1994 Miss Kansas Basketball, played just six minutes in her first collegiate game. Fort Hays State coach Annette Wiles said she planned on developing Dieterich slowly to keep her comfortable and confident.
"The family has a lot of basketball tradition, but we don't want to rush her along so quickly that we burn her out," Wiles said. "There probably will be times that I'm going to be criticized for holding Lindsay back, but a large part of that is that we want her to have a long and productive career."
Copyright 2017 The Lawrence Journal-World. All rights reserved. This material may not be published, broadcast, rewritten or redistributed. We strive to uphold our values for every story published.