Nearly 50 years of exercise has chiseled John Gillingham's body, defying many of aging's ruthless effects. But what has his dedication to fitness done for the 73-year-old's brain?
Possibly pumped it up, too, according to studies that continue to surprise the scientific world.
Gillingham has always known that exercise makes him feel good physically and mentally. "There's a tremendous correlation between exercise and the body and exercise and the mind," the Denver fitness instructor said.
What he didn't know was that in addition to adding muscle, all that running and weight lifting might have been building brain cells.
Researchers have learned in the past few years that new cells can grow in the brain's olfactory region and the hippocampus, the area responsible for learning and memory.
"It has really shocked the scientific community," said Henriet Von Prague, a researcher with the Salk Institute in California. Von Prague was a member of a research team at Salk that discovered that exercise could induce cell growth.
The finding adds to a growing list of exercise's positive effects on the brain, from boosting beneficial hormones that can fight depression and stress to increasing oxygen supply. It suggests people young and old can benefit, and its significance reaches beyond warding off minor memory problems with a morning jog.
Dee Carter, 75, began struggling with confusion and memory problems about 20 years ago and was urged by health professionals to start exercising regularly.
"I'd show up to appointments at the wrong time," said Carter, of Westminster, Calif. "I'm certain that it helped."
Now with a clear mind, she continues taking fitness classes. During weekend hiking outings, she can identify almost any wildflower she sees.
"That's not easy; there are a lot of them," Carter said. "I'm certain exercise gave me my mental processes back."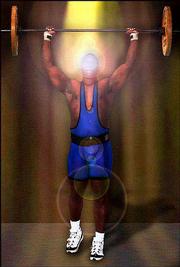 Research suggestive
The Salk research team first showed in 1997 that mice in cages decked out with exercise wheels, mirrors and mazes grew new brain cells and more neural pathways (called dendrites) than did control groups in less-supplied cages.
More recently, the researchers separated the wheel, mirror and maze groups to determine whether one component was more responsible for the cell regeneration than another.
To their surprise, the mice with the exercise wheel had the same level of brain-cell growth as the original study group, Von Prague said, while the other groups had no change.
It was enough to persuade the new mom, home on maternity leave, to exercise.
"I started to go down to the beach to jog," Von Prague said.
Corresponding evidence
Other studies, including one at the University of Colorado, have found that exercise boosts levels of a protein that nourishes brain cells. Exercise also appears to counteract detrimental effects of poor diet and high stress-hormone levels on the brain.
Gillingham, who teaches a fitness class to mostly older adults at the Colorado Athletic Club in downtown Denver, is unaware of the science, but he's familiar with the effects.
"I've always found that if I worked out and kept my mind sharp, I could manage a tremendous amount of stress and odd jobs that come up in life," said Gillingham, an Australia native.
"So many people give up and say, 'Oh, I'm too old.' " That excuse doesn't sit well with a man who, after 27 years of skiing, took up snowboarding at age 65 and keeps up on a mountain bike with those half his age.
Americans' tendency to retire and slow down adds to cognitive and memory problems, said Dr. H. Rai Kakkar, a neurologist with Porter and Littleton Adventists hospitals in Denver.
"We tend to be more inactive, and we tend to withdraw both personally and in our social life," Kakkar said.
Success story
Edith Kern hasn't followed that path. She swims three times a week and took up tai chi a decade ago. The Chinese exercise, which focuses on mind and balance, really made a difference, says the Denver resident, who admits only to being older than 80.
"You have to concentrate constantly," the German-born Kern said, explaining that if her mind wanders, she'll miss the next step. "And that is no good. Then you tumble."
Many perks
Experts urge people to stay physically and mentally active to ward off memory problems, with the understanding that brain diseases, such as Alzheimer's, are often genetic, a factor that can't be changed.
Exercise, which spurs the release of hormones that boost mood, also can help to prevent mild depression, which Kakkar believes is the reason for most of the memory-loss complaints he receives. It also can allay the effects of stress, which can cause forgetfulness.
Bonnie Fuller teaches the importance of physical exercise to people wanting to maintain brain fitness.
"Exercise is good because our brains use about 20 percent of our oxygen supply, and the only way to get that is from the blood," Fuller said. "Anything that stimulates our circulatory system contributes to brain health." And Fuller says people should start young.
The more brain cells and pathways a person can stockpile throughout life, the better, she says. "Research is showing that it would take longer for an organic brain disease to destroy those pathways."
Copyright 2018 The Lawrence Journal-World. All rights reserved. This material may not be published, broadcast, rewritten or redistributed. We strive to uphold our values for every story published.