Fairfax, Va. — A judge refused to order better treatment for jailed sniper suspect John Lee Malvo on Friday despite defense complaints that the 17-year-old is under constant scrutiny and is being denied basic rights.
Malvo's lawyers had said his right to privacy was being infringed by his guards. Among other things, they said Malvo's mattress was too thin, he had been denied reading material, his cell lights glared 24 hours a day and he was being denied vegetarian meals.
"This is about the right to human dignity," lawyer Michael Arif told Juvenile Court Judge Charles Maxfield.
Malvo is being kept at the Fairfax County jail, an adult facility, despite efforts by his lawyers to put him in a juvenile jail.
Arif said the sheriff's office had addressed some concerns " for instance, Malvo now has a curtain in his cell so he can bathe and use the toilet in privacy.
But Maxfield refused to intervene on the other issues.
"To ask the judicial branch to interfere with the operations of the executive branch is difficult," Maxfield said. "You're going to have to present a lot more evidence" of inhumane treatment to force intervention.
Prosecutor Robert Horan Jr. called Arif's motion "slightly short of frivolous."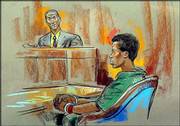 "Jail is not a nice place," Horan said after the hearing. "But it's better than the front seat of a Chevy Caprice."
The car served as a home to Malvo and fellow suspect John Allen Muhammad, and authorities believe they fired shots from the Caprice during last month's sniper spree.
Arif said after the hearing that his client was being kept in isolation. He said Malvo's cell, for instance, had a checker table but no checkers, so he used torn pieces of a business card to play checkers against himself.
Malvo sat quietly throughout the hearing. He was not asked to speak, and he talked quietly with his court-appointed guardian, smiling at times.
Earlier Friday, another judge denied a defense request to impose a gag order on police and the FBI in the case, despite leaks to a newspaper.
Fairfax County Circuit Judge M. Langhorne Keith said he shared lawyers' outrage over the leaks. But he said he had no authority to issue an order affecting the FBI. And he said he needed more evidence that Fairfax County police were responsible for leaking information to The Washington Post.
Muhammad's defense team made the request in response to a Post story that cited unidentified sources as saying Malvo had confessed to some of the shootings in Maryland, Virginia and Washington, D.C., last month.
Muhammad, 41, and Malvo are charged with capital murder and other counts in the string of shootings that left 10 people dead and three wounded. They also are charged with shootings in Louisiana, Alabama and Georgia and are suspected in a shooting in Washington state.
They are being prosecuted first in Virginia.
Copyright 2018 The Associated Press. All rights reserved. This material may not be published, broadcast, rewritten or redistributed. We strive to uphold our values for every story published.