Topeka — David Wittig was a golden boy -- a Kansas University graduate who excelled on Wall Street and returned home to lead a respected electric utility company, the state's largest. He even moved into the former mansion of Alf Landon, one of Kansas' most famous statesmen.
His friend Clinton Odell "Del" Weidner II, a former KU football player, rose to be president of Capital City Bank, helping develop the institution into a major player in Topeka.
On Thursday, a federal grand jury indicted Wittig, president and chief executive of Westar Energy Inc., and Weidner on charges they defrauded Capital City Bank on a $1.5 million loan. Both men, through their attorneys, said they were innocent.
Wittig, 47, was placed on administrative leave without pay. Weidner, 49, reportedly resigned from the bank earlier this year, although federal authorities said he was placed on leave when the alleged transaction was discovered in March.
News of the indictments sent the price of shares in Westar Energy plummeting. The New York Stock Exchange halted trading on the stock after it fell $2.33 per share, or more than 21 percent, to $8.52. That was its lowest level since 1982.
And the allegations revived criticism of Wittig, who has been paid millions by Westar but has led the company, which provides power to customers in Lawrence through its KPL unit, down a debt-ridden slope amid increased state and federal scrutiny.
'Dramatic impact'
In September, it was announced a grand jury was investigating Westar, and state regulators voiced support of a plan to restructure the company.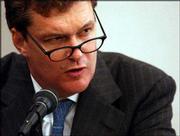 "The company is in terrible shape and it's true that when Wittig was hired, the company was in good shape, and its fortunes and failures are really all based on his strategies," said Walker Hendrix, chief lawyer of a state consumer agency that has fought Westar on electric rates.
Hendrix said that while the indictments were related to a personal transaction, the news would harm the utility nonetheless.
"It has had a dramatic impact on how the investment community perceives the company," Hendrix said. "It is hard to separate the company from the chief executive officer, especially in this day and age when there are so many CEOs under investigation."
The charges against Wittig and Weidner stem from an alleged April 2001 transaction between the two designed to funnel $1.5 million of bank funds through Wittig.
According to the U.S. Attorney's Office, Weidner proposed to Wittig a real estate venture in Scottsdale, Ariz., that required a $1.5 million down payment.
Wittig agreed to loan Weidner that amount if Weidner would increase Wittig's line of credit at Capital City Bank by $1.5 million to provide the money for the loan, according to the indictment.
Charges filedDavid Wittig and Clinton Odell Weidner each face:¢ One count of conspiracy¢ Four counts of submitting false entries¢ One count of misapplying money from a federally insured bank¢ One count of money laundering¢ One count of forfeiture
The transaction resulted in Weidner using the $1.5 million to get a 50 percent interest in the Eagle Ridge development project in Scottsdale, then promising to pay Wittig $1.5 million, the indictment said.
Economic threat
It also alleges the two men submitted false entries, books, reports and statements to the bank to conceal the intent of the loan, and misapplied money from the bank.
Wittig's credit ostensibly was expanded so he could use the money for business ventures and renovation of the former Landon mansion in Topeka, according to bank statements cited by the indictment.
Making false banking statements and reports "jeopardizes public confidence in the accuracy and integrity of those institutions, which threatens the underpinnings of our national economy," said U.S. Atty. Eric Melgren of Wichita.
Wittig and Weidner are free on their own recognizance and will have their initial court hearing Nov. 19. They each face one count of conspiracy, four counts of submitting false entries, one count of misapplying money from a federally insured bank, one count of money laundering, and one count of forfeiture.
If convicted, each man could face a maximum of 45 years in prison. They are scheduled to make their first appearances Nov. 19 before U.S. Magistrate Gerald Rushfelt in Topeka.
Hours after the indictment was announced, Wittig's attorney, James Eisenbrandt of Prairie Village, said the charges were groundless and that Wittig wanted to take administrative leave to devote his attention to fighting them.
'Baseless charges'
"David Wittig is not guilty of these charges. The line of credit provided to Mr. Wittig was proper. It and the loan to Mr. Weidner were paid in full, plus interest; and neither the bank nor any federal agency lost one penny," Eisenbrandt said in a prepared statement. "In order to focus his attention on defending these baseless charges, David has asked to be placed on administrative leave."
Westar's board of directors also issued a statement, saying Wittig would be placed on administrative leave without pay and that the company would soon appoint an acting president and chief executive.
Weidner's attorney, Bob Eye of Lawrence, also defended his client.
"When the evidence is heard, Mr. Weidner will be vindicated," Eye said.
Frank Sabatini, chairman of Capital City Bank, sought to assure depositors.
"Capitol City Bank customers need to know that Capitol City Bank loan of $1.5 million was repaid in full and the bank has suffered no financial loss or impact resulting from the alleged indictments," he said.
In September, Westar disclosed to the Securities and Exchange Commission that it had received subpoenas from the grand jury. It said those subpoenas sought testimony and documents related to Wittig, annual shareholders meetings, corporate aircraft use and "the company generally."
But the indictment referred to Westar only when it mentioned Wittig's title, without tying the transaction to the company. Also, the indictment does not mention corporate aircraft.
Asked whether a grand jury investigation was continuing, Kena Rice, spokeswoman for U.S. Atty. Melgren, said, "We never discuss investigations."
Copyright 2018 The Lawrence Journal-World. All rights reserved. This material may not be published, broadcast, rewritten or redistributed. We strive to uphold our values for every story published.