All is not fine in Lawrence's world of fine dining.
Chris Hanna, co-owner of The BleuJacket, confirmed Thursday the French restaurant would serve its last meal Nov. 16.
Hanna said the slumping economy severely hurt the downtown restaurant's sales, which opened in December 2000.
"I think running a fine restaurant would have to be one of the more challenging things to do in this economy," Hanna said. "My personal opinion is that with the stock market going down, people just aren't feeling good about where they are financially."
The BleuJacket, 811 N.H., is not alone in feeling the pain.
Fifi's Restaurant, a longtime upscale restaurant at 925 Iowa, has been closed for weeks. A sign on the door says the restaurant is closed for remodeling, but says nothing of reopening. The restaurant's phone has been disconnected and attempts to reach the owner have been unsuccessful.
Earlier this year, PrairieFire, an upscale bistro at 724 Mass., closed due to slow sales.
At Teller's, 746 Mass., operating partner James Truscello said bluntly it was a struggle for the 10-year-old restaurant to remain in business.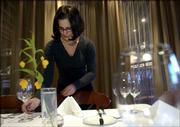 "It is a tough market," Truscello said. "It is probably one of the slowest years we've ever had. It's not a reflection on the restaurant. It is just that most people have had their legs cut out from underneath them with this economy."
Truscello said the restaurant had to significantly reduce its prices to keep customers coming in. He estimated prices for entrees were from 20 percent to 25 percent less than they were a year ago.
"If we didn't decide to make some changes a year ago, we'd be in the same boat as The BleuJacket," Truscello said.
The average entree at BleuJacket runs about $25.
Hanna said the business, which operates in the renovated Kansas Seed House building, was close to being successful. During its first year the restaurant met goals despite a downturn in sales after the Sept. 11 terrorist attacks.
But when the stock market continued taking losses, the restaurant began feeling the pain, Hanna said. He said he noticed a significant decline in the number of corporations that used the restaurant for business meals, too.
In late summer, the restaurant eliminated its lunch menu in an effort to cut costs and survive the slowdown, Hanna said.
But many of the business' regular customers, many of whom drove from Kansas City or Topeka, also decided they needed to cut back their evening dining, as well.
"We still had our share of the
special-occasion dining, like birthdays and anniversaries, but if you are just thinking about going out on a Friday night, a lot of people decided they had to scale it back," Hannah said.
The restaurant has about 40 employees. Hanna said he and his business partner, Dan Almanza, were in discussions with several parties that may be interested in buying the restaurant. But Hanna said it was too early to tell whether any deal would materialize.
He also said it was too early to say whether any new owners would continue to operate the business as an upscale French restaurant.
Copyright 2018 The Lawrence Journal-World. All rights reserved. This material may not be published, broadcast, rewritten or redistributed. We strive to uphold our values for every story published.