Washington — Citing a weak economy and the threat of war, the Federal Reserve flexed its monetary muscle Wednesday and cut interest rates by one-half of 1 percent twice what many observers had expected.
The size of its first interest-rate reduction this year reflected the Fed's concern about the economy's sluggish performance. Chairman Alan Greenspan's central bank is taking no chances that a devastating period of deflation, or falling prices, could take hold in the United States as it has in Japan.
The Fed voted unanimously to lower its benchmark overnight bank lending rate to 1.25 percent. It hopes to spur more consumer spending and business investment. Investment spending is a key to job creation and economic growth, but it has been stagnant for two years.
Several analysts said the bold move would help the economy recover by cutting borrowing costs, especially for businesses that have complained that banks are charging too much. Others said lower interest rates might fail to provide the necessary lift to pull the economy out of the doldrums.
Wall Street, already happy about Republican victories in Tuesday's congressional elections, bounced up, then down, and then back up again in a cautionary response to the Fed's move.
At the end of the day, the blue-chip Dow Jones industrial average was 92.74 points higher.
David Wyss, chief economist at Standard & Poor's Corp., said the central bank took a strong, unanticipated step in tackling economic weakness and helped ease concerns of a double-dip recession.
"I think the Fed decided there is no point in saving your bullets until you are dead," he said.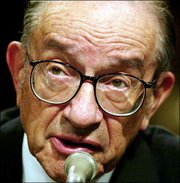 Wednesday's rate cut will reduce borrowing costs across the economy, particularly interest costs on home-equity and other consumer loans. Many analysts predicted that the cut also will reduce mortgage interest rates, though others said the move could cause long-term interest rates to rise if the Fed action is perceived as strengthening the economy.
For the elderly who depend on interest income from certificates of deposit and money-market mutual funds, the Fed's action will hurt, said Sung Won Sohn, chief economist at Wells Fargo Bank.
"There isn't much they can do," he said. "If they try to get higher rates in the bond market, there are increased risks."
In fact, some money-market mutual funds have seen the returns paid to investors drop so low that they are struggling to cover business costs, said Michael Drury, chief economist at McVean Trading Co. of Memphis.
Nonetheless, Drury said, when combined with the Republican election victory, which offers hope for tax cuts, the Fed's half-point reduction gives the economy "about as much juice as you can get."
Commercial banks' prime lending rate, a key rate for many borrowers, is expected to be reduced across the economy to 4.25 percent the lowest since May 1959. Some banks announced the reduction Wednesday, and others are expected to follow suit.
"If the Fed is going to cut interest rates, it might as well be aggressive," said William Wilson, economist at Ernst & Young in Chicago. If the central bank had decreased interest rates by only one-quarter of 1 percent, as had been widely predicted, the economic impact would have been much smaller.
The Federal Reserve influences the level of interest rates throughout the economy by raising or lowering the so-called federal funds rate, which banks charge each other for overnight loans. Other short-term rates are tied to this rate, which the Fed lowers by using its power to pump more money into the economy.
Inside the Fed, there has been concern that a mild form of deflation, in which falling prices cause consumers to pull back on spending, could be on the horizon in the United States. But analysts said the odds of 1930s-style deflation are extremely low.
The central bank's hefty rate cut was a sign that the Fed is taking no chances on the deflation threat, however small it may be, and will stage pre-emptive strikes.
The central bank has little room to reduce interest rates further. Japan has cut its interest rates to zero in an effort to stave off a strong deflationary cycle. The Fed could do the same thing in the United States if necessary. But while goods prices are low or falling, prices of services such as health care and education are rising.
Copyright 2018 The Lawrence Journal-World. All rights reserved. This material may not be published, broadcast, rewritten or redistributed. We strive to uphold our values for every story published.