Ulan Bator, Mongolia — Greeted by adoring throngs and serenaded by cymbals and horns, the Dalai Lama met today with monks at Mongolia's largest Buddhist monastery, kicking off his first visit to the northeast Asian nation in seven years.
Temperatures dropped to 5 degrees below zero as the leader of Tibetan Buddhism, wearing his traditional robe with one arm bare to the chill wind, made his way through Gandantegchillen Monastery in the Mongolian capital.
"We believe that the Dalai Lama is the Buddha. I am very happy and excited to be here," said Ananda, 19, a young man who uses only one name. He traveled from Russia this week to see the spectacle.
Hundreds of Mongolians, their faces bundled in fur against the cold, jostled and held up cameras in hopes of a glimpse of the Dalai Lama. When he arrived, he strode along a multicolored carpet flanked by legions of monks from the monastery, known commonly by its shorter name, Gandan.
Other monks prostrated in his path as he walked forward, shielded from the wind by a yellow silk umbrella and a hat. Horns blew, cymbals clanged and drums beat as he made his way toward a private meeting in the monastery.
Both Tibetans and Mongolians follow the tantric school of Buddhism, which recognizes the Dalai Lama as a high spiritual authority. A 16th-century Mongol king is thought to have bestowed the first Dalai Lama title a designation that means "Ocean of Wisdom."
Mongolia shares strong religious ties to Tibet and has been rediscovering its Buddhist heritage since the end of communist rule in 1990. Some 90 percent of Mongolia's 2.4 million people consider themselves Buddhists.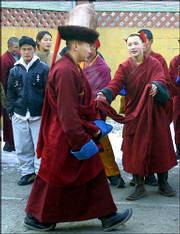 The Dalai Lama, who lives in exile in India, has visited Mongolia five times, most recently in 1995. He had planned to come in September, but was blocked when Russia and South Korea refused him transit visas, possibly to avoid angering China. There are no direct flights to Mongolia from India.
Late Monday night, the Dalai Lama arrived in Mongolia from Japan.
The visit seemed likely to draw angry protests from China, which regards the Dalai Lama as a political schemer bent on ending Chinese rule in Tibet.
Chinese communist forces occupied Tibet in 1951 and Beijing says the Himalayan region has been Chinese territory for centuries. The Dalai Lama fled into exile in India after a failed uprising in 1959 and travels frequently to conduct Buddhist ceremonies and seek support for his campaign for Tibetan political and cultural rights.
Copyright 2018 The Associated Press. All rights reserved. This material may not be published, broadcast, rewritten or redistributed. We strive to uphold our values for every story published.