One of Massachusetts Street's larger storefronts will be converted into a combination book store, art gallery and espresso bar by January.
Former Kansas University professor Clay Belcher has signed a lease for all 9,000 square feet of the building that housed the former Danish Inspirations furniture store at 722 Mass. St.
Belcher said he and his wife, Beth, hope to open by early next year Signs of Life, a new store that will focus on selling "thoughtful books" and "uplifting" pieces of art.
"We're doing this mainly to be an encouragement to the community," Belcher said. "We want to help bring truth and beauty to downtown Lawrence."
The store won't be a traditional bookstore, Belcher said. He said the store's selections would have a strong focus on Christian books but would try to offer a wider range of titles than a traditional Christian book store.
The store will carry titles covering subjects such as religion, art, philosophy, literature and self-help.
"It basically will be books about important ideas," Belcher said. "Books that inform and don't just entertain."
Belcher, who was a professor of architectural engineering, said he also hoped to make the art gallery unique. He said it will tend to focus more on national artists rather than local works of arts, and it would strive to only display uplifting pieces of work.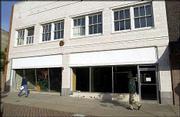 "It will be a hopeful type of art," Belcher said. "So much art is dark we want to focus on art that expresses hope."
The store is expected to have about 4,000 square feet of space for book sales, about 3,000 square feet for art sales and the remaining usable space will house an espresso bar that will sell coffees, pastries and juices, Belcher said.
Belcher thinks the unique mix will produce success, although he admits he'll measure success in nontraditional business terms.
"I think it is going to be successful because we're not limiting our definition of success purely to the financial aspects," Belcher said. "We do think there is a market for this kind of stuff, and we think we'll do OK financially, but our main definition of success is the impact we have on people's lives."
Belcher said he plans to renovate the facade of the store, which before housing Danish Inspirations was the longtime home for Chet Johnson Furniture.
"We have some old photos from long before Chet Johnson Furniture was there, and we want to try to mimic some of the rhythms and forms the building had back then," Belcher said.
Copyright 2018 The Lawrence Journal-World. All rights reserved. This material may not be published, broadcast, rewritten or redistributed. We strive to uphold our values for every story published.