New York — "Mama took us to a building that had a lot of rooms in it. It was an apartment building, and she lived in one of the rooms. She got another key from a lady at the desk in the lobby. Nanny asked what apartment was going to be hers and mine, and Mama pointed to a door right behind us. It faced the lobby, and it was number 102." from Carol Burnett's memoir, "One More Time"
---
It takes place in Room 102 in a shabby three-story building on the corner of Yucca and Wilcox, a block north of Hollywood Boulevard, where once, according to its most famous resident, "there were about a hundred thousand movie houses."
The crowded, tiny space is where "Hollywood Arms," a memory play by Carrie Hamilton and her mother, Carol Burnett, spins its tale of three generations of women: irascible grandmother; quarrelsome, unhappy mother; and young star-struck Helen, a stand-in for Burnett.
This family drama, based on Burnett's 1986 autobiography, has found its way to Broadway after stops at Sundance's theater lab in Utah and Chicago's Goodman Theatre. The production stars Linda Lavin as Nanny, Michele Pawk as Mama and Sara Niemietz and Donna Lynne Champlin as the younger and older Helen.
However, most of the attention has been focused on its co-authors Burnett, one of television's most beloved comedians, telling her own story, and Hamilton, who died of lung cancer at 38 last January, before "Hollywood Arms" went into rehearsal in Chicago.
That has meant Burnett going it alone as author, working with veteran director Harold Prince and the cast, as the play made its way to New York.
For Burnett, the trip has been a heartfelt journey. She is still mourning the oldest of her three children and yet celebrating her daughter as the person who knew, more than three years ago, that Burnett's book must be done on stage.
"She had reread and reread and reread the memoir, and told me, 'Mom, just for us, let's make this a play,"' Burnett recalled during an interview in a hotel near Central Park.
The performer spoke softly, quietly as she talked about her daughter.
"Carrie had a little cabin that she loved in Colorado. That's where she would go to write. And Carrie was a very good writer."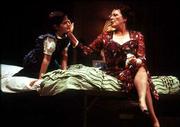 Their game plan? Mother and daughter first decided on a scene-by-scene outline for the play, and then, who would write what. "She'd write separately and I'd write separately," Burnett explained. "So we faxed back and forth. That's how it worked."
'Lovely family story'
After invaluable rewriting one summer at the Sundance Theater Lab and a couple of readings, Burnett sought the advice of Prince, an old friend and director of such musical hits as "Cabaret," "Evita" and "The Phantom of the Opera." She was looking at a list of young directors and wanted Prince's recommendations. After reading the play, he suggested himself.
"I wasn't fishing at all," Burnett said with a laugh. "I just wanted his advice. He called back and said, 'I'm the one to do it."'
Prince had said yes, but he warned them there was work still to be done.
"I had read Carol's memoirs and found them quite moving a lovely family story set against difficult odds," the director said. "After I read the play, I told them, 'You've got a lot of characters and you've got a lot of settings. It's more sprawling than it should be for a good play, but I think it can be a very good play because you both know how to write."'
Prince drew his writers a sketch "the roughest, most embarrassing design of a one-room set that you ever saw," he says and told them: "You must confine every single thing in this play to that one set."
Out of his order came a clearer picture of Room 102, a volatile 12-foot-by-16-foot environment where Nanny, a domineering hypochondriac, would protect young Helen from Louise, an angry, alcoholic woman battered by broken dreams.
Burnett still has ties to the place she currently rents the room.
"A young man has bought the building and is now restoring it, hoping to get it back to its original grandeur, which was in the '20s, long before we ever got there," she said.
"As they were redoing it, I went there to take pictures of the room because Hal wanted to see it," she added.
"I brought in a little couch and a desk and went there with my laptop to see what would happen. I've got it month to month. I figure I am going to let it go after we open."
Difficult time
Getting there, though, has been rough.
Hamilton became sick in August 2001 and by November, things were worse.
"It was six difficult months, but work was being done," the director said. "The show was being cast. We did all that together. And fortunately, when Carrie was in the hospital, she still saw tapes of all the actors who are in the show. She passed on absolutely everything."
By the time "Hollywood Arms" went into rehearsal for its Chicago engagement, Hamilton had died.
"And then the next thing that faced us was and I think Carol and I just didn't deal with it until it happened what would happen when a rewrite was necessary," Prince said. "That was the most dramatic day four days into rehearsal in Chicago. I finally called her and said, 'Let's have a little dinner,' and I told her the next scene wasn't going to work as is. Her face dropped.
"I explained what I thought the next scene should be and she said, 'It's going to take three days.' She looked completely poleaxed by the idea of writing it alone. And I said, 'OK, it's going to take as long as it's going to take,' thinking to myself, 'I hope it doesn't take three days because this isn't the end of it. There is always more coming.' And then I went up to my hotel room and went to bed.
"Around one in the morning, I heard some papers coming under the door and I got up, and, sure enough, there were six pages of rewrites. Neat and tidy. They are in the show. And that was the beginning of what Carol faced bravely and courageously, and then the rewriting went on that way."
Asked if the audience would hear her daughter's voice in "Hollywood Arms," Burnett said simply, "You will hear us." Prince concurred. "I could never tell who wrote what in this play. I think you should know that."
Copyright 2018 The Associated Press. All rights reserved. This material may not be published, broadcast, rewritten or redistributed. We strive to uphold our values for every story published.