OAKLAND, CALIF. — It's hours before kickoff. Jerry Rice is alone on the Coliseum grass, running through his structured warm-up routine.
A sprint here, a zigzag there, a stretch in between.
It's exactly the way the 40-year-old receiver has prepared for as long as he can remember, since he came into the league back in 1985 with the San Francisco 49ers. Now, playing with the Oakland Raiders on the other side of San Francisco Bay, he's set to suit up for his first regular-season game against his old team since leaving after the 2000 season.
"I can try to downplay it, but you know, I'm going against my old team, and I want to play well. I want the Black Hole to be just nasty this week," Rice said, referring to the rowdy group of Raiders fans who sit behind the south end zone.
He could get career touchdown No. 200 he scored the first 186 with the 49ers by reaching the end zone once on Sunday. Yet that doesn't matter as much to Rice as helping get the Raiders back on track following three straight losses after a 4-0 start.
Beating his old team would just make it that much sweeter.
For so long now, Rice has been Bay Area football. He's been able to perform at close to the same level at age 40 as he did early in his career, thanks to a demanding physical regimen.
The 49ers could still use Rice. With underachieving J.J. Stokes and unproven Tai Streets as their only receiving threats beyond Terrell Owens, San Francisco is lacking a dependable No. 2 wideout.
"He's put the time and effort into staying healthy, and you see it on the field," 49ers quarterback Jeff Garcia said. "He's looked as if he hasn't lost any steps. He's looking even better than he did the last two years here, actually."
When the Niners let Rice go two years ago, they said they couldn't pay him what he was worth. They also wanted to see what Stokes and Streets could do with added responsibility.
Rice insists he isn't holding a grudge. He appreciates that he got a fresh start.
"I have nothing against those guys," Rice said. "I have nothing against the coaches. They did me a great favor because it gave me a chance to rejuvenate myself. There's no animosity or anything. So, yeah, I'm going to speak to some guys.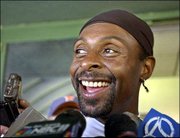 "Then, when you snap that chin strap on, it's all about going out there and making plays and putting your team into position."
San Francisco coach Steve Mariucci would like there to be a way for teams to hold onto such key veterans.
"We've had so many salary cap casualties around here, and it's sad," Mariucci said. "I wish we could work something out where you wouldn't have to let a guy like that go. We had to move on for a lot of reasons."
Rice has moved on, too.
Despite holding all the major receiving records in the NFL, Rice is still not satisfied. That drive to accomplish more is what he considers the key to his longevity.
"I never feel like I have arrived," he said. "I never feel like I'm playing my best football. I think that's still the reason I'm out there working so hard. I've just been very fortunate, had a lot of supporting guys around me. Then to come into an organization like this one and work with Tim Brown and Rich Gannon and all those guys.
"If I had to write a book, it probably would be a best-seller. Coming from the Niners to the Raiders and still at the age of 40, being productive."
His teammates are impressed with the durability of a player they grew up watching and admiring nearly two decades ago.
"I mean, the guy's like 47 or 48," Oakland offensive lineman Lincoln Kennedy said. "The fact he's old and can still play receiver on this level, that's the most impressive feature. He's young at heart, he's very jovial, he's just a good guy to be around. The fact he's been able to keep that stamina and vigor on the football field is a testament to his work ethic, a testament to his attitude, but more so to his personality and character."
This year, Rice leads the Raiders with 45 catches for 604 yards.
Despite everything he's done, Rice is still among the NFL's hardest working players. He's usually one of the first out on the practice field and one of the last to leave.
"If I was a younger player, I would just have to ask the first day or two if it's OK if I just come out and stand there and just watch," Gannon said. "Here's a guy who pretty much set the standard of how you play the position. Why wouldn't you want to be out there just trying to absorb and suck all the information out of the guy you possibly could?"
Copyright 2018 The Associated Press. All rights reserved. This material may not be published, broadcast, rewritten or redistributed. We strive to uphold our values for every story published.