Rockingham, N.C. — Ryan Newman continued his mastery of qualifying, winning his fifth pole of the season when he took the top spot Friday at North Carolina Speedway.
Newman turned a lap in his Ford at 155.836 mph to earn the first starting spot for Sunday's Pop Secret 400. He tied Davey Allison's record for the most poles by a rookie.
Asked how he has made his rookie season seem so easy Newman has one victory, won the annual all-star race and is fourth in the Winston Cup standings he just laughed.
"Easy is kind of a vague word because by all means, it's not easy," he said. "It's definitely difficult to come to a place like this and get your car hooked up for two laps. Some things will come easier and some things will come harder, and that's all just part of a rookie season."
Jamie McMurray, the fill-in driver for injured Sterling Marlin, continued his terrific burst onto the Winston Cup scene by qualifying second in a Dodge.
McMurray, who set a NASCAR record by winning in his second start last month, ran a lap at 154.540 mph in his first Cup qualifying effort of the season. Qualifying was rained out in his first three Cup events, so he automatically made the field based on car owner points.
He was pleased with his qualifying effort, but admitted he was disappointed when Newman knocked him off of the pole.
"I'd be lying if I said I wasn't," McMurray said. "Everybody wants to be first.
"But it's a long race and I didn't really expect to beat him he was so much faster than everybody else in practice. So I'm glad to be second, but disappointed."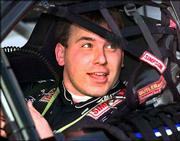 McMurray, who won his first Busch series race last weekend at Atlanta Motor Speedway, then learned a hard lesson about being media-friendly. While answering questions, he heard the roar of the Busch series cars starting for their final practice and realized he needed to be on the track.
"I've got to go, that's my Happy Hour, see you," he said, dropping the microphone and darting off. McMurray starts third in today's Busch race.
Todd Bodine qualified third in a Ford for the Winston Cup event, and was followed by Mike Skinner in a Chevrolet. Fifth in a Ford was Mark Martin, who trails series leader Tony Stewart by 146 points with three races left this season.
"I know this car is going to be awesome in race trim with the way it's driving today," Martin said. "I'm really looking forward to Sunday. I think it's going to be a great car for the race."
Stewart qualified 24th.
"Qualifying has never really been our deal here," Stewart said. "We've never really torn it up, but we always seem to race well, so we'll be all right. We'll get it worked out by Sunday."
Jeff Green, who won the pole for the Busch race earlier Friday, qualified sixth. He was followed by Kurt Busch, who won the last two races, Rusty Wallace, Robby Gordon and Bill Elliott.
Hank Parker Jr., driving a research and development car for Ray Evernham, qualified 25th for his first Winston Cup race by posting the same time as Stewart.
"I was pretty nervous going in," Parker said. "Ray was nice enough to give me this opportunity, and needless to say, I'm stoked."
Copyright 2018 The Associated Press. All rights reserved. This material may not be published, broadcast, rewritten or redistributed. We strive to uphold our values for every story published.