Philadelphia — Once he stopped shooting jumpers, Allen Iverson couldn't miss.
Iverson scored 35 points despite another poor shooting performance and Philadelphia overcame a 17-point, third-quarter deficit to beat New York, 98-86, on Friday night.
Aaron McKie had 22 points and a career-high 13 rebounds and Keith Van Horn added 17 points and 12 rebounds for the Sixers, who are off to a 2-1 start.
Kurt Thomas had 25 points and Allan Houston added 23 for the Knicks, who were outscored 41-17 in the fourth quarter. New York, playing without starters Latrell Sprewell, out with a broken hand, and Antonio McDyess, sidelined for the season with a knee injury, has lost its first two games.
Iverson, who missed 17 of 23 shots in the first three quarters, hit his first six shots of the fourth quarter and finished 12-of-30. The three-time NBA scoring champion had 15 points in the fourth quarter.
"I was struggling so much and have been struggling so much that I felt I had to break out some time," said Iverson, who got six of his final 15 points on layups and three more on free throws after getting fouled while going to the basket.
"I stayed confident and tried to get closer and closer to the basket instead of taking long shots. What's frustrating is when you think that the shots are going in and they don't."
Iverson, who shot 16-for-50 in the first two games, is 28-for-80 overall (35 percent).
Nets 102, Pacers 91
East Rutherford, N.J. New Jersey defeated Indiana in their first meeting since the Nets' dramatic double-overtime win in the deciding Game 5 of the first round. The game included the ejection of three players the Nets' Jason Kidd and backup guard Anthony Johnson, and Pacers guard Erick Strickland. There were nine individual technical fouls, four flagrants and 59 personal fouls. Richard Jefferson led five Nets in double figures with 19 points. Dikembe Mutombo added 14, Kenyon Martin and Rodney Rogers had 11 and Lucious Harris had 10.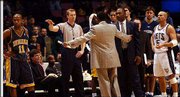 Pistons 109, Grizzlies 86
Auburn Hills, Mich. Richard Hamilton scored 23 points and Chauncey Billups added 15. Detroit also got 13 points from Zeljko Rebraca and eight points and 14 rebounds from Ben Wallace. Pau Gasol and Drew Gooden, who played for Kansas University, led Memphis with 21 points each.
Bulls 84, Hornets 79
Chicago Jalen Rose scored 21 points and Donyell Marshall added 15 points and 12 rebounds. It's the first time since 1996-97 the Bulls have won their first two games, and they're above .500 for the first time since 1998. After blowing a 16-point, fourth-quarter lead, Chicago had to sweat out the last 312 minutes. Jamal Mashburn led the Hornets with 21 points.
Spurs 91, Raptors 72
San Antonio Tim Duncan had 22 points and 15 rebounds and San Antonio held Toronto to an NBA record-tying six points in the final quarter. San Antonio, up 70-66 after three quarters, held the Raptors to just three baskets in the final period. Vince Carter paced Toronto with 18 points.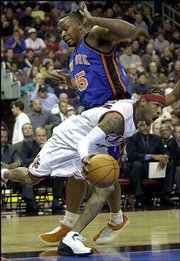 Rockets 83, Nuggets 74
Denver Cuttino Mobley scored 12 of his 29 points Steve Francis had 10 of his 21 points in the final quarter for the Rockets. James Posey led Denver with 16 points, and Kenny Satterfield added 13. Rockets center Yao Ming scored his first points on a turnaround jumper from 12 feet.
Suns 78, Cavaliers 74
Phoenix Shawn Marion had 21 points and 16 rebounds as Phoenix overcame an awful shooting night. The Cavaliers finished their season-opening road trip 1-2. Ricky Davis scored 21 for the Cavs. Zydrunas Ilgauskas had 17 points and a career-high 22 rebounds for Cleveland but was only 6-for-22 from the field, 2-for-15 after the first quarter.
T'wolves 111, Magic 105
Minneapolis Kevin Garnett recorded his seventh career triple-double with 23 points, 14 rebounds and 10 assists. Guarded mostly by Garnett, Tracy McGrady struggled with his shooting touch all night. McGrady, who scored 31 and 24 points in Orlando's first two games wins over Philadelphia and Miami went 6-for-15 for 18 points, 14 in the second half.
Lakers 108, Clippers 93
Los Angeles Kobe Bryant had 33 points, a career-high 15 rebounds and 12 assists as the three-time defending NBA champions won for the first time in three games this season, all played without the recuperating O'Neal and the suspended Rick Fox.
Sonics 106, Warriors 93
Oakland, Calif. Gary Payton had 26 points and 10 assists in a visit to his hometown. Desmond Mason came off the bench to score 23 points and grab nine rebounds and Rashard Lewis had 19 points and nine rebounds for Seattle, which beat Golden State for the 13th straight time.
Copyright 2018 The Associated Press. All rights reserved. This material may not be published, broadcast, rewritten or redistributed. We strive to uphold our values for every story published.