Mutla, Kuwait — Kuwait's government is sealing off nearly a quarter of the country including the area near the Iraqi border to the public as U.S. and Kuwaiti soldiers train ahead of a possible showdown with President Saddam Hussein.
Kuwaiti authorities say the move, which takes effect today, is intended to safeguard the public during ongoing military exercises in the country's northwestern desert.
But Kuwaiti officials say privately that the closure is also designed to protect U.S. troops after shooting incidents in which one U.S. Marine was killed.
A government official, speaking on condition of anonymity, said the decision to seal off a large chunk of territory until further notice followed the Oct. 8 fatal shooting of a U.S. Marine on the island of Failaka, off the Kuwaiti coast.
The two Kuwaiti attackers, both Islamic extremists who had trained in Afghanistan, were shot and killed by other Marines.
Six days later, the U.S. military reported that shots were fired at its troops from two civilian vehicles in Kuwait's northwest, within the zone that is now closed to the public.
The Kuwaiti government official played down the second incident, saying the shots came from Bedouin hunters and were not directed at the Americans.
Nevertheless, these incidents plus ongoing U.S.-Kuwaiti maneuvers in the northern part of the country have convinced many that an attack on Iraq is inevitable.
On Friday, a convoy of desert-camouflaged U.S. military vehicles including tanks on flatbed trucks and Humvees equipped with machine guns returned from desert maneuvers to the U.S. base of Camp Doha.
U.S. military spokesman Capt. Darryl Wright said the forces were conducting routine weapon drills.
The U.S. officials would not comment on Kuwait's decision to seal off the country's northwest, a move that bars the public from more than 1,600 square miles of Kuwait's total land area of about 6,900 square miles.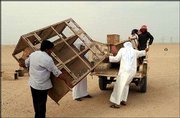 Kuwaiti government employees have begun building sand walls and new military checkpoints on the western side of the highway that stretches south from the Iraqi border to Jahra, a city 15 miles northwest of the capital, Kuwait City.
Hundreds of farms are believed to be scattered throughout Kuwait's northwestern desert, a region that is also a popular camping destination. Farmers have been told they will be relocated.
Abdel Latif al-Fahed, who has farmed inside the zone for six years, said the U.S. presence in his country was vital for ensuring stability in the Gulf region.
"Without the Americans here, Saddam would come back into Kuwait again and cause more problems not just here but in the entire region," 50-year-old al-Fahed said. "Therefore, we have to move from the area as our government wishes. It's in the interest of regional stability."
His brother, Zaid al-Fahed, 46, blamed the Iraqi leader for forcing him to pack up his family and move eastward outside the control zone.
"If it weren't for Saddam Hussein we'd be able to stay. But there is no security in the region because of his regime, so we have been told to move," the younger al-Fahed said as he tore down a chicken coop. "Having to move means we lose a lot of money through lost sales and relocation costs."
Another nearby farmer, Ali al-Osami, said he would comply with the order but others would not.
"They think the decision is wrong and they won't accept the ruling," al-Osami said. "They will not move."
Ali al-Monier, 54, said he has been camping in the Kuwaiti desert some 31 miles northwest of the capital, Kuwait City, since he was a child.
"With the weather cooling down we are now in the season where many Kuwaiti families start going camping in the desert on weekends, but this decision means we can't do anything," al-Monier said. "And it is all because Saddam's regime is still in power."
Copyright 2018 The Associated Press. All rights reserved. This material may not be published, broadcast, rewritten or redistributed. We strive to uphold our values for every story published.