Topeka — The state's top election official is predicting an average voter turnout Tuesday, with slightly more than half of the Kansans registered casting ballots.
Secretary of State Ron Thornburgh said Friday that he thought about 820,000 people would vote, or 51 percent of the 1.6 million registered.
Only 26 percent of voters cast ballots in Aug. 6 primary elections, but turnout for primaries typically is lower.
Thornburgh said the state continued to see an increase in voter registration, but the higher registration numbers hadn't translated into more voters at the polls in recent elections.
"It's more just a gut feeling as I've been in the coffee shops and Main Street cafes," Thornburgh told reporters. "I just don't sense the enthusiasm that we've seen in the past."
Republican State Chairman Mark Parkinson agreed that voters weren't enthusiastic this year. He said the secretary of state's prediction was optimistic.
"I don't sense a great energy in the electorate to get out and vote," Parkinson said. "I hope I'm wrong."
Parkinson said both parties had aggressive get-out-the-vote efforts, which may make turnout average.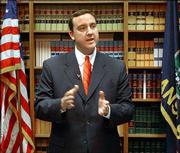 "Absent those efforts, I think it would have been pretty low," Parkinson said.
But Democratic State Chairman Tom Sawyer thinks Thornburgh's prediction is too pessimistic.
He said Democrats were enthusiastic about their slate, then noted that Thornburgh was a Republican.
"He's around Republicans," Sawyer said. "They may not be enthusiastic about their candidates."
Thornburgh said last year's terrorist attacks didn't seem likely to have an effect on turnout, either, despite an apparent increase in patriotic sentiments.
"While Sept. 11 created great patriotism in the United States of America, it has done nothing to make citizens more political," Thornburgh said.
Copyright 2018 The Associated Press. All rights reserved. This material may not be published, broadcast, rewritten or redistributed. We strive to uphold our values for every story published.