Blintzes are a Jewish comfort food, but you don't need to be Jewish to love them.
Proof of this can be seen in the turnout at the Blintz Brunch held every year at the Lawrence Jewish Community Center, 917 Highland Drive.
Typically, about a thousand people line up on the Sunday before Election Day for plates of the folded, little cheese-filled crepes, as well as frozen packages of potato and spinach blintzes to take home and reheat later.
It's a happening and a local tradition, a celebration of ethnic food and Jewish culture.
"People have a good time, and I don't mean just the people who are working. The people who come from town to support us feel it's a jolly time, and they're in a good mood," said Audrey Leban, who usually volunteers to run the Blintz Brunch's gift shop, stocked with Israeli jewelry and crafts.
"Even if it's pouring or they have to stand in the cold and wet, by the time they come in they're smiling. That's a very important part of the Blintz Brunch: reaching out to the community."
The Blintz Brunch is an outreach event and fund-raiser for the center and Jewish Community Women. The women's organization donates a share of its proceeds to a number of Lawrence charities.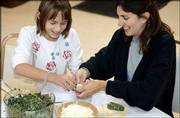 Volunteers have been readying for the brunch since July, when they started getting together to roll blintzes and then freeze them.
Mel Magilow, 83, has been in charge of the production of blintzes.
"We've made about 5,300 cheese blintzes, which will be served hot at the brunch, and I would say we've made about 500 or 600 of the spinach blintzes and potato blintzes to be sold frozen," he said.
Tickets to the event, which cost $6.50 apiece, are good for one serving of three to four cheese blintzes, a small serving of fruit and a beverage of choice coffee, milk or tea.
At each table, there will be containers of condiments to dress up the blintzes according to individual tastes: a cinnamon-sugar mixture, strawberry preserves and sour cream.
But the brunch features more than just blintzes.
There's also a perennially popular ethnic food and bake sale, offering homemade goods and other specialties brought in from the Kansas City area.
The 39th annual Blintz Brunch will be from 10 a.m. to 2 p.m. Sunday at the Lawrence Jewish Community Center, 917 Highland Drive.
Items for sale will include: cakes, cookies, matzo ball soup, chopped liver, rugelah (a Jewish pastry), challah and rye bread from the New York Bakery, salami, corn beef and lox (smoked salmon).
Also available will be frozen packages of cheese, potato and spinach blintzes. Goods at the bake sale can be purchased with cash or the $6.50 tickets sold at the brunch.
There will also be a gift shop featuring jewelry and crafts from Israel, Jewish ritual objects, and Jewish music tapes and books.
"It's a combination of good eats and fun," Leban said. "Everybody seems to have a good time, and that's how I judge the success of the blintz brunch."
Copyright 2018 The Lawrence Journal-World. All rights reserved. This material may not be published, broadcast, rewritten or redistributed. We strive to uphold our values for every story published.