Hot Springs, Va. — In a tiny church across the street from where he learned the game, Sam Snead was remembered Sunday as a "common man" who evolved from barefoot caddie to "national treasure" and one of golf's greatest players.
Snead, known for a sweet swing that produced a record 81 victories on the PGA Tour, died Thursday. He would have been 90 today.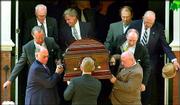 "No one will ever duplicate Sam Snead. No one will ever surpass Sam Snead, because he was so unique," PGA Tour commissioner Tim Finchem told some 250 friends, family members and fellow golfers during a funeral service at St. Luke's Episcopal Church.
Finchem, one of four speakers to eulogize "Slammin' Sam," credited him with making the Senior PGA Tour possible and with helping to promote the game with his folksy, friendly manner.
"What do you say when a legend passes or leaves us?" Finchem said. "Sam was, in so many ways, the best player the game has ever seen."
William Campbell, former president of the United States Golf Association, referred to Snead as a "national treasure," who, thanks to friendly wagers, "relieved me of a lot of my loose change."
"He was the best natural player ever," he said. "He had the eye of an eagle, the grace of a leopard and the strength of a lion."
Bob Goalby recalled winning money from Snead during a practice day at the Masters, and how the loser was supposed to pay up at the flag on the final hole, in full view of everyone else.
"One year, when I was lucky enough to win, I turned around and Sam was gone," Goalby said. "I finally tracked him down in the men's room."
The service was attended by Snead's son, Sam Jr., and his wife, Ann, and the golfer's brother, Peter. A private burial was held on Snead's farm afterward.
Also present were golfers Doug Sanders, Curtis Strange and Tom Watson, Snead's nephew J.C. Snead, U.S. Sen. George Allen, R-Va., and several of Snead's contemporaries from West Virginia, who wore straw hats in tribute.
"These hats represent the legend of the greatest golfer who ever lived," said Lawson Hamilton, 79, of Lewisburg, W.Va., a friend and frequent playing partner. "We're going to miss him tremendously."
Snead was famous for his straw hat, cocky grin and homespun humor. A three-time Masters champion, he had been an honorary starter since 1983. He would jaunt to the first tee, show off that flowing, flawless swing and then tell stories outside the clubhouse.
Throughout his retirement, Snead spent a lot of time running clinics at The Homestead, where he learned to play the game, and The Greenbrier.
"He was a common man," said Robert Harris, director of golf at The Greenbrier. "He never forgot that. He never felt special."
Snead taught himself golf, starting out with clubs he fashioned from used buggy whips and discarded iron heads, and a driver that he and his father carved from the root and trunk of a swamp maple tree. Those clubs, he often said, helped him develop the timing and rhythm of his swing.
Once he turned professional, he played like no one else has.
Snead's 81 victories on the tour were 11 more than Jack Nicklaus' total. Snead's first victory came in 1936; his last in the 1982, at the Legends of Golf, when he teamed with Don January.
He won the Masters three times, the PGA Championship three times and the British Open once, and had several near misses in the U.S. Open.
Copyright 2018 The Associated Press. All rights reserved. This material may not be published, broadcast, rewritten or redistributed. We strive to uphold our values for every story published.