Kansas City, Mo. — In one afternoon, Cory Bailey doubled his win total from the previous five years.
Bailey (2-4) became the first pitcher in Royals history to win both ends of a doubleheader, leading Kansas City past the Texas Rangers, 7-5 and 9-8, Sunday for the Royals' first doubleheader sweep in almost five years.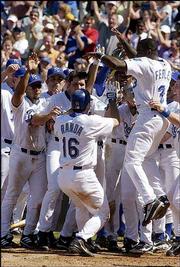 Bailey pitched a scoreless ninth in the first game, then got two outs in the sixth inning of the nightcap.
"It could have been anybody," the journeyman right-hander said.
The last pitcher to win both ends of a doubleheader was Toronto's David Wells, who beat the Angels twice in relief on July 17, 1989.
"It just turned out that way," Bailey said. "I was just the one who was out there."
Bailey's previous win was May 5, 2001. Before that, while bouncing between the majors and minors, he hadn't won a big league game since September of 1996 with St. Louis.
"Wins, they come. Losses, they come," Bailey said. "I got four losses the first three weeks. Sometimes they come a little harder than wins do."
Mike Sweeney, Carlos Beltran and Mark Quinn all homered in the second game as Kansas City had a season-high 18 hits. The Royals' last doubleheader sweep came against Minnesota on July 28, 1997.
"It was a long day," Royals manager Tony Pena said. "But when you win two, it's a short day."
In the first game, Joe Randa's two-run homer capped a three-run rally off Hideki Irabu in the ninth inning.
In the second game, Beltran connected off Chris Michalak (0-2) for a two-run shot in the sixth inning of the nightcap after the Rangers scored three in the top half for a 7-all tie.
The Royals completed a three-game sweep of the Rangers, who were 2-9 on their longest road trip of the year.
"It's very disappointing. But we've just got to go back home and play like we did the last homestand, just get after it," Texas manager Jerry Narron said. "We've got a lot of character here and they're not going to quit. We just didn't get it done this road trip."
Roberto Hernandez pitched the ninth in the nightcap for his 301st career save and seventh in as many chances this season, allowing a solo homer to Juan Gonzalez his first RBI of the season.
Sweeney, who was 5-for-10 on the day, hit a solo homer to put the Royals up 6-4 in the fifth inning of the nightcap. Then Donnie Sadler had an RBI single for a 7-4 lead.
In the opener, Beltran singled with one out off Irabu (1-3), stole second and scored on Sweeney's game-tying single. Randa hit his third homer over the fence in left-center.
Quinn's solo homer in the second inning of the nightcap made it 2-1, then the Royals tied a team record with four stolen bases while scoring three runs in the third to take a 5-1 lead.
Rafael Palmeiro's 10th home run leading off the fourth left him one RBI short of becoming the 34th player in major league history with 1,500. Then Gabe Kapler's sacrifice fly and Alex Rodriguez's RBI single made it 5-4 in the fifth. With one out and the bases loaded, Blake Stein relieved Darrell May and struck out Gonzalez and Carl Everett.
In the sixth, the Rangers made it 7-6 on consecutive home runs off Stein by Herbert Perry and Todd Greene, who also had an RBI single in the second inning and doubled and scored in the fifth. Perry also had a solo homer in the first game.
When Stein left with a pulled groin a few minutes later with a runner at second, Bailey came in and gave up a game-tying RBI single to Rodriguez. But with two on and two outs, he got Gonzalez to pop out to end the inning.
In the first game, Rodriguez hit a two-run homer and scored on his own RBI single with the help of two Kansas City errors as the Rangers built a 5-4 lead.
Rodriguez connected on a 415-foot shot off rookie Miguel Asencio for a 3-2 lead in the sixth. Then he hit an RBI single in the eighth and kept coming around as rookie catcher Juan Brito and center fielder Beltran each committed throwing errors.
But in the bottom half of the eighth, Rudy Seanez walked the bases loaded and two runs scored when Rodriguez misplayed Quinn's grounder.
"Momentun in baseball is funny," Randa said. "They score two on what was probably the ugliest inning we've played all year. Then they walk the bases loaded and we get a break and get them right back. I think that was the key to the game."
Asencio allowed three runs and four hits in six innings.
Copyright 2018 The Associated Press. All rights reserved. This material may not be published, broadcast, rewritten or redistributed. We strive to uphold our values for every story published.