Phoenix — David Dellucci took center stage when the duel between Kevin Brown and Randy Johnson fizzled.
Dellucci, who didn't get back into action until Friday after spending 21 days on the disabled list with a hamstring strain, hit an RBI double in the 10th inning that sent Arizona over Los Angeles, 10-9, Sunday.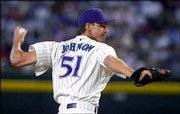 The Dodgers scored twice in the ninth against Byung-Hyun Kim (2-0) to tie it at 9. Arizona won it in the 10th against Dennis Springer (0-1) when Steve Finley drew a leadoff walk, moved up on a groundout and scored on Dellucci's drive.
Until then, Springer, a 37-year-old knuckleballer who has pitched for six teams, had the Diamondbacks baffled.
"It's a difficult chore especially when the guys in front of him are throwing in the mid-90s," said Dellucci, who had two RBIs. "His knuckleball had some great movement on it. I just tried to see the ball all the way in. I worked the count into my favor, and he threw a fastball and I was able to hit it fair."
Arizona's Craig Counsell had five hits..
Brown was forced to leave after just 20 pitches in the first inning because of pain in his surgically repaired right elbow. He was to be evaluated today in Los Angeles.
Given a 4-0 lead after one inning, Johnson couldn't hold it. Johnson derailed Shawn Green's home run express and passed Walter Johnson for eighth place on the career strikeout list with 3,509. But the Big Unit also gave up two home runs to Marquis Grissom and one to Adrian Beltre and left trailing 7-4 after five innings.
Green was trying to tie Frank Howard's major league record of 10 homers in a week after setting the NL record of nine with two Saturday night. He was 2-for-6 with a single and a double.
Braves 7, Reds 5
Atlanta Keith Lockhart made the most of a rare start, hitting a three-run homer off Chris Reitsma (3-1) to lead Atlanta past Cincinnati. Ken Griffey Jr., making his second start since returning from the disabled list, went 0-for-4 for the Reds. Vinny Castilla and Wes Helms also homered for Atlanta to back starter Greg Maddux (5-2), who struggled through 52*3 innings. Maddux allowed three runs and seven hits.
Expos 6, Phillies 5
Montreal Jose Vidro went 4-for-4 to extend his major league-best hitting streak to 20 games and Vladimir Guerrero hit an RBI single to cap a four-run seventh inning as Montreal swept Philadelphia. In the seventh, Vidro hit an RBI single off Vicente Padilla (6-4) to draw Montreal within 5-4. After Vidro stole second, Jose Macias scored the tying run on Padilla's wild pitch. Guerrero brought the Olympic Stadium crowd of 19,015 to its feet with a single that scored Vidro with the go-ahead run.
Cardinals 7, Pirates 3
Pittsburgh Fernando Vina hit a grand slam and drove in five runs with the help of pitcher Jason Simontacchi's first two career hits as streaking St. Louis beat Pittsburgh.
Simontacchi (3-0), a former Pirates farmhand, limited Pittsburgh to homers by Aramis Ramirez and Brian Giles over 7 1/3 innings to outduel fellow rookie Josh Fogg (5-3), who was roughed up for three homers.
The Cardinals rallied to win for the 19th time in 50 games. They had 36 come-from-behind victories last season.
Mets 3, Marlins 0
New York Jeff D'Amico pitched three-hit ball for seven innings and Mike Piazza hit a two-run double as New York defeated Florida. D'Amico (4-4) allowed only three singles and one walk, striking out five. Mark Guthrie pitched the eighth and Scott Strickland worked the ninth for the save, completing the combined five-hitter.
Piazza's double highlighted a three-run first inning against A.J. Burnett (5-5).
Rockies 10, Giants 6
Denver Todd Helton went 3-for-4 with a homer and three RBIs to lead Colorado to its sixth straight victory. Colorado, 20-8 under manager Clint Hurdle, moved two games over .500 for the first time since June 19, 2001. Rockies starter Jason Jennings (5-2) won his fourth consecutive decision for the first time in his career. He allowed six runs five earned and eight hits in five innings. San Francisco's Ryan Jensen (4-4) allowed eight runs and 10 hits in five innings.
Padres 8, Brewers 7
Milwaukee Pitcher Dennis Tankersley homered and doubled to help himself record his first major league victory and San Diego ended its five-game losing streak. Ryan Klesko hit two home runs for the Padres, who broke loose after being held to three singles Saturday.
Tankersley (1-0), who got no-decisions in his first three starts, gave up five runs in 5 2/3 innings. He settled down after falling behind 3-2 on Richie Sexson's homer in the first. Trevor Hoffman pitched the ninth for his 13th save in 13 chances. Nelson Figueroa (1-3) took the loss.
Astros 7, Cubs 5
Houston Craig Biggio's two-run single capped an eighth-inning rally, and Houston stopped a six-game losing streak. The Astros overcame a five-run deficit and ended the Cubs' five-game winning streak. Houston trailed 5-0 before scoring three times in the seventh two on Biggio's double and four runs in the eighth. Brad Ausmus and Jose Vizcaino hit RBI singles that made it 5-all, and Biggio delivered the tiebreaking hit. Octavio Dotel (3-2) pitched a perfect eighth and Billy Wagner earned his seventh save.
Copyright 2018 The Associated Press. All rights reserved. This material may not be published, broadcast, rewritten or redistributed. We strive to uphold our values for every story published.