The aptly titled documentary "Founding Brothers" (8 p.m., History, concludes Tuesday) portrays our nation's first leaders as a bickering band of brilliant siblings who quarreled over principles and clamored for the support and attention of America's father figure, George Washington. Based on historian Joseph Ellis' Pulitzer Prize-winning book, "Brothers" offers a compelling account of our nation's creation, with a dramatic emphasis on the personality clashes between Washington, John Adams, Benjamin Franklin, Thomas Jefferson, James Madison and Alexander Hamilton.
Part one of "Brothers" begins with Washington's first inauguration. Having thrown off British royal rule, Washington faced the task of inventing the presidency. What do you call the chief executive? Does he behave like a king or a commoner? What is the role of the vice president? While each of the "Brothers" was united against British rule, all of these men had profoundly different visions for the young nation. "Brother" includes insights from historians including Joseph Ellis, David McCullough ("John Adams"), Jack Rakove and Gordon S. Wood. Actors lend their familiar voices to the cast of historical characters, including Brian Dennehy (Washington); Peter Coyote (Jefferson); Hal Holbrook (Franklin); Rob Lowe (Madison); James Woods (Adams); and Michael York (Hamilton).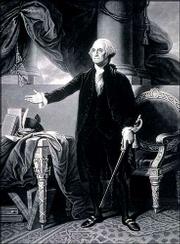 As the cliche goes, pop music is the soundtrack of our lives. And the music doesn't stop playing on the battlefield. The new series "Military Diaries," (9 p.m., VH1) presents interviews with soldiers in Afghanistan, Kuwait and the Arabian Sea about their musical preferences and the role that their favorite songs play in their lives. In addition to footage assembled by series director R.J. Cutler ("American High") "Diaries" includes videos shot by the soldiers themselves.
Produced by historian Stephen Ambrose and Steven Spielberg, the documentary "Price for Peace," (7 p.m., NBC) combines war footage and interviews with veterans who describe their role in World War II's Pacific war from the attack on Pearl Harbor in 1941 to Japan's surrender and occupation in 1945. Tom Brokaw is the host.
TNN celebrates Memorial Day with a 12-hour "Baywatch" marathon, beginning 8 a.m. All 12 episodes star the pneumatic Pamela Anderson as C.J.
For the sixth consecutive year, the Discovery Channel kicks off summer with three hours dedicated to gravity-defying rides, including "Top Ten Coasters" (7 p.m.), "Extreme Rides" (8 p.m.) and "Ultimate Guide: Roller Coasters" (9 p.m.). All are rated TV-G.
Tonight's other highlights
Roger Moore stars in the 1979 James Bond thriller "Moonraker" (7 p.m., ABC)
A Christmas message creates tension on "Everybody Loves Raymond" (8 p.m., CBS).
The two-hour musical special "Willie Nelson & Friends" (8 p.m., USA) includes performances by Ryan Adams, Sheryl Crow and the Dixie Chicks.
Copyright 2017 The Lawrence Journal-World. All rights reserved. This material may not be published, broadcast, rewritten or redistributed. We strive to uphold our values for every story published.