Concord, N.C. — Mark Martin patiently worked his way to the front as NASCAR's young stars took themselves out of contention in the longest race of the season.
Martin took advantage of Jimmie Johnson's rookie mistakes to win the Coca-Cola 600 on Sunday night, ending a two-year victory drought and giving Roush Racing its fourth straight win in the race.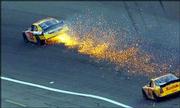 "I don't know if I'm going to win another one, so you better believe I'm going to party all night and I don't even drink," said Martin, breaking from his usual serious demeanor. "This may be the last time I ever stand down there, I don't know."
Martin, at 43 the anchor of Jack Roush's four Winston Cup teams, held off teammate Matt Kenseth over the final laps to end his 73-race winless streak with his 33rd career victory.
Roush, recovering from serious injuries sustained last month in a plane crash in Alabama, also fielded winning cars in the spring race at Lowe's Motor Speedway for Jeff Burton in 1999 and 2001 and Kenseth in 2000.
Roush reached Martin by cell phone in the winner's circle and joined in the raucous celebration.
"I couldn't really hear him, but I know he must have had tears in his eyes not being here," Martin said.
Martin took over the lead when Johnson, who dominated the race and led 263 of the 400 laps, made two errors while on his way to a seemingly easy victory.
Running away from the field, Johnson bumped the lapped car of Hut Stricklin trying to pass. Stricklin spun out and Johnson had to hit the brakes to keep from plowing his Chevrolet into him.
Johnson, the polesitter, made it through, but it brought out a caution period with 42 laps to go.
Johnson was still the leader when the cars headed into the pits, but he overshot his stall and NASCAR made him back up costing him precious time as the rest of the leaders beat him back onto the track. He came out in ninth, while Martin took over the lead.
"I had my fork dug into the cake and I was ready to take a big bite of it and the piece fell right on the floor," Johnson said. "I'm extremely disappointed to dominate like we did and a mistake on my behalf ruins it. That tells the tale."
With Johnson no longer a factor and rookie Ryan Newman, winner of The Winston last week out of the race with a blown motor Martin only had to hold off numerous challenges from Kenseth.
Lapped traffic played into Martin's favor, as he used the slower cars to put space between the two Fords and hold Kenseth off for the win.
"He wasn't going to beat me in traffic, I would have wrecked that thing than just give it up," Martin said. "He could have beat me fair and square, but he was going to have to race hard. So I just stayed after it."
It was his fourth victory at Lowe's, tying him with Jeff Gordon for the most wins at the track among active drivers, and he won a $1 million bonus from the series sponsor for winning the race.
He had promised his crew when they became eligible for the bonus that he would share it with the entire team if they won the race.
"It was really, really important to win this race because there are so many guys on this team who hadn't been to victory lane," he said. "This is their win, not mine. I'll take the trophy with me back to Florida, that's enough."
Kenseth was second and said he had the car to beat Martin if not for the traffic.
"I knew he wasn't going to let me win, he was in the gas, he always is," Kenseth said. "I had the better car, but I never could get up on him and he told me in victory lane I was going to have to spin him out to win."
Ricky Craven was third, followed by Ricky Rudd, Gordon and Tony Stewart. Johnson ended up seventh, Michael Waltrip was eighth and Bill Elliott and Rusty Wallace rounded out the top 10.
Robby Gordon successfully completed "double duty" racing in the 600 after finishing the Indianapolis 500 earlier in the day. He finished eighth in Indy, flew to Charlotte and was in his Richard Childress-owned car for the start of the second race.
But his Chevrolet was never a factor en route to a 16th-place finish.
"It was a long day, the biggest thing was the cramps," said Gordon, clearly drained. "I got a cramp in my right leg the final 30 laps that really slowed me down."
Stewart, who opted out of the Indy 500 this year to concentrate on his NASCAR job, was one of the drivers eligible for the $1 million bonus if he won here, but his Pontiac never even led a lap.
Rudd became NASCAR's Iron Man, breaking Terry Labonte's record for consecutive starts when he took the green flag for the 656th straight time. He was strong, too, leading 49 laps.
"I'm kind of a low-key guy, I just come to race," Rudd said. "To be honest, today doesn't feel like any other day. It's just another day at the office, as far as I'm concerned."
The race started a little earlier than usual, meaning more racing in daytime conditions than teams were used to. The 5:45 p.m. EDT start meant more sunlight and a track temperature of 125 degrees when the green flag dropped.
Teams had to adjust as it cooled off, which it did in a hurry. Less than 90 minutes later, the track surface had dropped 20 degrees and the trend continued as the lights came on.
The changing elements effected all the cars some for the good, some for the bad.
That's what happens during the 600, a race that's as much about keeping the fenders on the car from start to finish as it is keeping calm for the duration of the event.
Kurt Busch, another Roush driver, couldn't do that, losing his temper during a late pit stop. He had taken over the lead when Johnson pitted and gave it up when he made his stop under green.
But he stalled the car during the stop, and angry about the delay, he sped off pit road and was called back in for a stop-and-go penalty. It cost him any shot at winning the race and he finished 31st.
Copyright 2018 The Associated Press. All rights reserved. This material may not be published, broadcast, rewritten or redistributed. We strive to uphold our values for every story published.