Arlington, Texas — Dustin Majewski didn't have to hit a home run to help Texas win the Big 12 tournament championship game.
Majewski had a key sacrifice bunt and a pair of RBI singles, the second in the 10th inning to score Ryan Hubele with the go-ahead run, and Texas beat Nebraska 9-6 Sunday for its first Big 12 tournament title.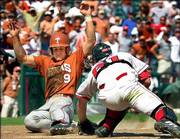 The Texas right fielder had hit four homers, one more than his regular season total, in the first five games of the tournament. His small ball tactics worked just as well in the title game as the Longhorns (48-14) led 4-0 and 6-4.
"We have been against the wall the whole week, but we have confidence," said Majewski, the tournament's MVP with a record 13 hits and 11 RBIs. "When they tied up the game, we didn't get nervous. We knew we had to go out and score some more runs."
Texas, the regular season champion, overcame an opening 8-4 loss to Texas A&M; on Wednesday and won the Big 12's automatic NCAA berth. It was the Longhorns' first postseason conference tournament title since the 1994 Southwest Conference.
"This is what we've been working for, and deserved as a team," said freshman Huston Street (4-1), who got the last five outs in his fourth appearance this week.
Nebraska (42-18) had won the past three Big 12 tournaments and 12 straight games in the event. The Cornhuskers will get an at-large bid when the 64-team NCAA field is revealed Monday, and as many as five other conference teams could get invitations as well.
"We're disappointed we lost, but we're a confident team," said Nebraska coach Dave Van Horn. "Whatever happened this weekend, we'll learn from it."
Hubele, whose three-run homer in the third gave Texas a 4-0 lead, led off the 10th against Waylon Byers (1-5) with a double. He scored on a bang-bang play when his foot hit the plate at the same time of catcher John Grose's tag after Majewski's single to right off reliever Jeremy Becker.
"It was just a matter of inches," said Longhorns coach Augie Garrido.
Eric Sultemeier added a solo homer and Tim Moss, the first batter faced by reliever Jeff Blaesing, hit an RBI triple.
Street, the fifth Texas pitcher, allowed only a single to Jeff Leise in the 10th. He had two wins and a save in the tournament.
Nebraska tied the game at 4 with three runs in the seventh, and then added two runs in the eighth after Texas had gone back in front 6-4.
Jeff Ontiveros was hit by Aaron Marsden to start the Texas eighth, and advanced on a walk and a sacrifice bunt by Majewski with two on and no outs.
"He never had any hesitation, once he knew what we were trying to do," Garrido said, adding that Majewski initially missed the unexpected bunt signal.
Ontiveros scored when Marsden threw the pitch three feet wide of Grose and to the backstop while trying to issue an intentional walk. Michael Hollimon then hit an RBI single.
In the bottom of the eighth, after Daniel Bruce reached on a disputed hit by pitch, Jed Morris had an RBI single and Matt Hopper hit a sacrifice fly for a 6-6 tie.
Nebraska had batted around in the seventh, scoring on an RBI single by Grose and a hit batsman and a walk with the bases loaded.
Ontiveros scored an unearned run in the second, when he struck out but reached on a passed ball by Grose. He scored on Majewski's first single.
Justin Simmons, whose only loss in his previous 15 starts for Texas this season was in the tournament opener, pitched five shutout innings after finding out only 45 minutes before the game that he was starting. He struck out three while giving up four hits and four walks.
Texas was just the second team to come out of the loser's bracket to get into the Big 12 title game. Simmons gave up five runs on seven hits in a 2 2-3 innings in an 8-4 loss to Texas A&M; on Wednesday, before the Longhorns won five games in four days.
Copyright 2018 The Associated Press. All rights reserved. This material may not be published, broadcast, rewritten or redistributed. We strive to uphold our values for every story published.