Los Angeles — He has remained famous far longer than the 15 minutes he promised everyone else, so much so that it's hard to travel far these days in Los Angeles without being confronted by a gigantic portrait of Andy Warhol.
The artist's image, as well as those he created of such icons as Elvis, Marilyn and Mao, went up on billboards and utility poles all over town this month: The city that played host 40 years ago to Warhol's first solo exhibition of his famous Campbell's Soup can paintings is preparing for another.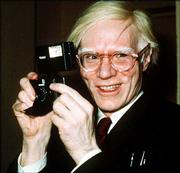 "Andy Warhol Retrospective" runs through Aug. 18 at Los Angeles' Museum of Contemporary Art, with the downtown museum extending its hours to accommodate what organizers expect will be a huge crush of visitors.
It is the third and final stop of the show, which debuted in Berlin last October before moving on to London for seven weeks.
Seeking out the famous
Although Warhol was born in Pittsburgh, home of The Andy Warhol Museum, and lived and worked in New York City most of his life, MOCA Director Jeremy Strick says there is no better place than the "Left Coast" to exhibit the work of pop art's most famous practitioner.
To begin with, Warhol's first solo exhibition was at the Ferus Gallery in Los Angeles in 1962. And the Pasadena Art Museum, now the Norton Simon Museum of Art, organized his first traveling retrospective in 1970.
"From his childhood, Warhol was absolutely fascinated by Hollywood," said Strick. "Warhol grew up watching Hollywood movies and he was fascinated by the cultural celebrity that was generated from Los Angeles."
Warhol, who once said, "In the future, everyone will be famous for 15 minutes," seemed to spend much of his life memorializing and even fawning over Hollywood's celebrities.
"Jodie had on high boots and a hat and was really cute and we loved her," he gushed in the "Andy Warhol Diaries" as he described meeting child-star Jodie Foster for the first time in 1976.
Along the way, he created his own fair share of celebrities, as well, although for many fame lasted a little longer than 15 minutes: Joe Dallesandro, star of several Warhol films, including "Trash," "Heat" and "Flesh"; Paul Morrissey, one of the editors of Interview, the celebrity magazine the artist founded; and the band the Velvet Underground, whose members included Lou Reed and Nico, and whose first album Warhol produced.
Most of his films, including "Empire" (an eight-hour look at New York City's Empire State Building) and "Chelsea Girls" (a mostly unscripted film shown simultaneously on two projectors), have been forgotten by all but cinephiles and die-hard fans.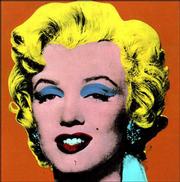 Rejecting the status quo
But his true legacy rests with his paintings, sculptures and drawings, more than 200 of which are being displayed at MOCA.
"Interest in his work has not flagged since the early '60s," says Cecile Whiting, author of "A Taste for Pop: Pop Art, Gender, and Consumer Culture." The reason, she says, is simple: Warhol helped change the direction of modern art.
"One thing you see a lot of in modern paintings by somebody like Jackson Pollock is that art should be completely separate from the mass culture," says Whiting, who teaches at the University of California-Los Angeles.
"Mass culture at that time was thought of as nothing but a standard predictable component that could be consumed, whereas painting was supposed to be unique, challenging and original and express the artist's feelings and opinions. The example is Jackson Pollock's works, where the brush stroke looks as though it is spontaneous and unique to that artist.
"Then Warhol comes along and, like many artists in the 1960s, he wants to distance himself from modern expressionism," Whiting says. "He takes every familiar image from advertising, the packaging of products, the packaging of celebrities everything from Campbell's soup to Marilyn Monroe."
He not only painted such subjects, but through the silk-screening print process he popularized, he reproduced them over and over again.
Many of those works are featured in the show, as are Warhol's well-known disaster-theme paintings, featuring electric chairs, car crashes and suicides.
Also included are lesser-known works, including drawings from the 1940s from a commercial illustrator named Andrew Warhola, who later altered his name (some say it started as a typographical error for a 1949 shoe ad he designed) and dyed his hair silver.
By the 1960s, he was nearly as famous for being eccentric as he was talented, producing his art in a Manhattan studio he called The Factory and traveling with an entourage, one of whose members nearly shot him to death in 1968.
Almost 20 years after surviving the three bullets fired into his chest by Valarie Solanis, Warhol died in 1987, of complications following gall bladder surgery. He was 58.
Copyright 2018 The Associated Press. All rights reserved. This material may not be published, broadcast, rewritten or redistributed. We strive to uphold our values for every story published.