United Nations — Representatives of the world's indigenous peoples called for respect and treatment as equal members of the global community on Friday, at the conclusion of their first official forum at the United Nations.
Ole Henrik Magga, the forum's chairman, said the session marked many years of hope by the world's indigenous peoples that their voices would be heard.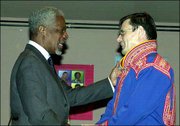 "This has been the dream of our peoples for so many years, to be equals with the other peoples of the world," said Magga, of the Saami people of Norway, Finland, Sweden and Russia. "We are the poorest of the poor, and we are the most vulnerable people on this globe. We need your help, your understanding and your protection."
The meetings dealt with topics as diverse as intellectual property rights and land confiscation, and called for improvements in the areas of human rights and environmental protection, as well as greater respect for traditional knowledge and medicines.
In 2000, the U.N. Economic and Social Council, one of the world body's six primary organizations, agreed to create a permanent forum on indigenous issues at the recommendation of the Commission on Human Rights but over the objections of the United States and Canada, which both have large indigenous populations.
The forum, which opened May 13, marked the first official gathering of the world body dedicated to the concerns of the world's 5,000 indigenous groups, which comprise 300 million people living in 70 countries on five continents.A second meeting is planned for next year.
U.N. Secretary General Kofi Annan said the United Nations should be considered "home" to indigenous groups, all too often the marginalized poor in their own nations.
"You have rights, needs and aspirations that can and must be addressed," Annan told the forum. "And you have knowledge, vision, values, skills and many other attributes that can and must help us at the United Nations, and indeed all of mankind."
Copyright 2018 The Associated Press. All rights reserved. This material may not be published, broadcast, rewritten or redistributed. We strive to uphold our values for every story published.