Atlanta — Back in Cincinnati's lineup for the first time in seven weeks, Ken Griffey Jr. was so uncomfortable in the early going he felt like "a deer in headlights."
The rest of the Reds must not have felt much better.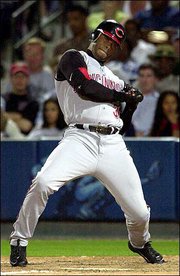 Vinny Castilla had a three-run double in Atlanta's seven-run third inning, helping the Braves ruin Griffey's return with an 11-2 victory over Cincinnati on Friday night.
Griffey went 1-for-4 in his return after missing seven weeks with a torn tendon in his right knee. He singled sharply in the first inning off Kevin Millwood (3-5) in his first action since April 7. The Reds went 25-16 in his absence and lead the NL Central.
"The first couple of innings I was like a deer in headlights," Griffey said. "As the game went on, I felt more and more comfortable being in the outfield. I think that's going to be the adjustment playing. It's going to be playing the outfield."
Millwood won for the first time in seven starts, and his first since April 8. He allowed two runs on eight hits in six innings. The Braves had scored an average of 2.9 runs in Millwood's previous nine starts but tied a season high with 11 runs to win for the sixth time in eight games.
"I felt pretty confident," Milwood said. "It was a different feeling than I've had in a while. I don't know why. I don't think it was a great outing, but it's a step in the right direction."
Joey Hamilton (2-2), making his first start since May 6 against Milwaukee, gave up a career-high nine runs seven earned and eight hits in 22*3 innings.
"It disappoints me but it doesn't surprise me," Cincinnati manager Bob Boone said. "His command wasn't there early. That's why he threw as many pitches as he did."
Pirates 5, Cardinals 2
Pittsburgh Kip Wells shut down the league's hottest team by limiting St. Louis to three singles over 62*3 shutout innings in Pittsburgh's victory. Wells (7-2), who has accounted for nearly one-third of the Pirates' 22 victories, won for the sixth time in seven decisions, never allowing a runner to third. Garrett Stephenson (1-3) took the loss.
Mets 5, Marlins 4,
10 innings
New York Vic Darensbourg (1-1) walked four batters in the 10th inning, including Jay Payton with the bases loaded, as New York overcame Armando Benitez's first blown save of the year. After Benitez blew his first save in 10 chances, Scott Strickland (4-2) pitched a scoreless 10th for the win.
Expos 4, Phillies 1
Montreal Vladimir Guerrero's three-run double off Randy Wolf (3-3) capped Montreal's four-run seventh innings and led the Expos past Philadelphia.
Brewers 6, Padres 2
Milwaukee Marcus Jensen made the most of his first start of the season, hitting a three-run homer to lead Milwaukee past San Diego.
Cubs 5, Astros 4,
11 innings
Houston Fred McGriff and Moises Alou each had RBI singles in the 11th inning off Billy Wagner, leading Chicago to its fourth straight victory. The Astros lost their fifth in a row after winning seven straight. The Cubs have won five of six after breaking out of a nine-game losing streak.
Rockies 8, Giants 5
Denver Bobby Estalella homered and drove in four runs, and Todd Helton hit his 100th home run at Coors Field as Colorado beat San Francisco. Estalella went 3-for-4 with two doubles and his fifth home run. Helton also doubled to back Denny Stark (3-0), who left after five innings with a 6-2 lead as the Rockies won their fourth straight.
Diamondbacks 14, Dodgers 3
Phoenix Shawn Green tied a major league record with his fifth homer in two games but Los Angeles could muster little else as Curt Schilling became the majors' first nine-game winner. Green, who homered a record-tying four times during a 6-for-6 performance at Milwaukee on Thursday, hit a solo shot in the first off Schilling (9-1). It was the 25th time a player hit five homers in consecutive games.
Copyright 2018 The Associated Press. All rights reserved. This material may not be published, broadcast, rewritten or redistributed. We strive to uphold our values for every story published.