NEW DELHI, India — India warned the United States, Britain and Russia Friday that it was losing patience with Pakistan in the impasse over Kashmir, as Islamabad said it would conduct "routine" missile tests this weekend.
The international community scrambled to avert a potential war between the nuclear-armed South Asian neighbors, with a visiting European Union official urging Pakistan to reduce attacks by Muslim militants in Kashmir.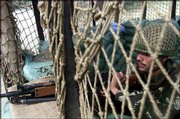 Indian Prime Minister Atal Bihari Vajpayee wrote a letter to President Bush, British Prime Minister Tony Blair and Russian President Vladimir Putin stressing that India was running out of patience with Pakistan.
"We have exercised restraint all these months in the face of requests by the international community that we would see a change in Pakistan's attitude. That hasn't happened," Indian Foreign Ministry spokeswoman Nirupama Rao said, paraphrasing Vajpayee's letter.
She said the letter also indicated, "There is a sense of anger in this country and public opinion is unanimously united on the need to bring an end to this."
New Delhi said it was notified by Islamabad that Pakistan intends to test short- and medium-range missiles today through Monday.
"The government of India is not particularly impressed by these missile antics, clearly targeted at the domestic audience in Pakistan," Rao said.
India and Pakistan routinely conduct missile tests and notify each other according to an agreement designed to avoid misunderstandings that might lead to an unintended conflict. However, Pakistan's announcement was ominous given the heightened tensions between the rival neighbors.
In Islamabad, Pakistan's information secretary, Anwar Mahmood, said the missile exercises were "routine tests concerning technical matters."
"We have notified neighboring countries, including India, about these tests," he said. "We have also informed India that these tests have nothing to do with the current situation."
Mahmood did not specify the missiles to be tested.
India and Pakistan have massed about 1 million troops at their frontier.
Copyright 2018 The Associated Press. All rights reserved. This material may not be published, broadcast, rewritten or redistributed. We strive to uphold our values for every story published.