Concord, N.C. — This replacement thing is working out well for Ron Hornaday.
Hired three weeks ago to replace Lyndon Amick, Hornaday earned the first Busch series pole of his career Friday by qualifying first for the Carquest Auto Parts 300.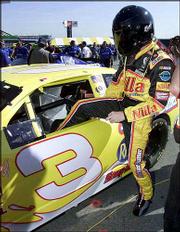 Hornaday set a record with a lap of 182.094 mph around Lowe's Motor Speedway, besting the 179.485 mph set by Jeff Burton seven months ago.
Michael Waltrip qualified second for today's race. Bobby Hamilton Jr. qualified third, Jeff Green was fourth and Todd Bodine fifth. Jack Sprague was sixth, followed by Jason Keller, Brian Vickers, Kevin Lepage and Mike McLaughlin.
Dale Earnhardt Jr., making just his second Busch series appearance of the season, qualified 11th in a No. 3 Chevrolet owned by Richard Childress Racing.
"It's pretty neat seeing the No. 3 out on the track, it reminds me of the good old days," Earnhardt Jr. said of the number, which his late father used in Winston Cup.
Earnhardt Jr. won the season-opening Busch series race at Daytona with the No. 3 car, which he's driving to help fill sponsor commitments for Childress, who owned his father's Chevy. He was thrilled to bring the car to the track near his hometown of Mooresville and enjoyed the peace and quiet he found in the Busch garage on Friday.
"There's not a lot of pressure in the Busch race for me," he said. "When I walk through the Winston Cup garage, I have to keep my head down to get through the crowds to get from one place to another.
"So a day like today is pretty cool because I get the chance to kind of hang out and watch all that's going on around me."
What he saw was 16 drivers break the event qualifying record, led by Hornaday.
The pole effort is a highlight for the 43-year-old Hornaday, who started the season with no job after parting ways with Winston Cup car owner A.J. Foyt at the end of last season.
He has since filled in for Ricky Hendrick in the Busch series. Hendrick is the replacement driver for Amick and has a Winston Cup ride for the Coca-Cola 600 on Sunday as a fill-in for Shawna Robinson.
"Me and my wife, we used to spend all our money trying to put shoes on the kids and then end up sending them to school barefoot," he joked. "It's like this racing thing. You think it's greener on the other side, then you climb the mountain and find out there was snow and you slip down."
Hornaday took over for Amick at New Hampshire, where he finished 14th matching Amicks best finish in the car this season. Last week at Nazareth, Hornaday led two laps and finished third.
Vickers, meanwhile, had little time to spare after making the race.
The 18-year-old had to head 55 miles away to Trinity High School for his graduation. He anticipated skipping all the parties, choosing instead to rest up for the best starting position of his career.
He also anticipated taking a break from schooling he's an honors student graduating seventh overall in a class of 255 students and finally focus on racing full-time.
"Graduation means a lot, education has always been important," he said. "But I'm looking forward to concentrating on racing, it takes that in this sport and the racing is what I live for."
Copyright 2018 The Associated Press. All rights reserved. This material may not be published, broadcast, rewritten or redistributed. We strive to uphold our values for every story published.