Moscow — Beneath the Kremlin's gleaming domes, President Bush and Russian President Vladimir Putin signed the biggest nuclear arms-reduction treaty in history on Friday, writing a friendly postscript to their nations' Cold War rivalry.
But before the ink had dried on their 10-year pact, the leaders were struggling to keep Russia's nuclear ties to Iran from straining their new partnership. "Our nations must spare no effort at preventing all forms of proliferation," Bush said as his aides considered offering incentives to win Russia's cooperation.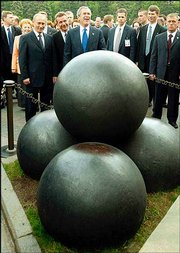 Elbow to elbow with Putin in the gilded St. Andrews Hall, Bush said the treaty-signing ceremony "ended a long chapter of confrontation and opened up an entirely new relationship between our countries."
The Cold War is now "in the rearview mirror of both countries," he said.
Putin called the treaty "a serious move ahead to ensure international security." It marked another tentative step away from Russia's Communist past and toward the West in ways once considered unthinkable.
Next week, Putin will join Bush in Rome to sign an accord binding Russia with NATO, though not as a member of the military alliance formed in the Cold War to contain the Soviet Union.
The arms accord would limit the United States and Russia within 10 years to between 1,700 and 2,200 deployed strategic nuclear warheads each, down from about 6,000 apiece now.
Ratification expected
The U.S. Senate and the Russian Duma are expected to ratify the three-page treaty. The relatively small size reflects Bush's informal diplomatic style as well as his reluctance to commit the United States in writing to anything more than he had to.
The treaty allows the United States to store warheads rather than destroy them as Putin wanted. And it leaves both nations with enough missiles to destroy each other's major cities many times over.
"Friends really don't need weapons pointed at each other. We both understand that," Bush said. "But it's a realistic assessment of where we've been, and who knows what'll happen 10 years from now. Who knows what future presidents will say and how they'll react?"
After the ceremony, Bush met with media executives and business leaders, then toured the Kremlin's main square. Never a big sightseer, Bush briefly mingled among 100 hand-picked tourists stopping at the 17th century Czar's Bell and the Czar's cannon.
Putin leaned over and touched the cannon.
"It's really beautiful," Bush said, looking out over the huge expanse of Kremlin buildings.
Chechnya discussed
Later, the president raised the touchy issue of Chechnya, where Russians are clamping down against rebels. He told religious leaders that nations can go to war while being respectful on the battlefield.
"And that lesson applies to Chechnya. The war on terror can be won, and at the same time we've proven it's possible to respect the rights of the people in the territories," Bush said.
Tensions between India and Pakistan were a distraction, drawing Secretary of State Colin Powell's attention as he used telephone diplomacy to try to avert a blowup between the South Asian neighbors.
At the news conference, Bush said he pressed Putin about Russia's nuclear assistance to Iran a country the United States has branded a sponsor of terror and part of an "axis of evil" alongside Iraq and North Korea.
"He gave me some assurances that I think will be very comforting to you," Bush told reporters without elaborating.
The Russian gave no ground, defending his assistance to Iran as largely energy-related and pointing out that the United States has helped North Korea build a nuclear power plant. Besides, he said, much of Iran's nuclear program is based on Western technology.
Iranian issues thorny
Behind closed doors, Putin told Bush that Russia had no intention of doing anything to help Iran's nuclear weapons program, an administration official said. Furthermore, Putin suggested that perhaps the issue should be studied by a panel of experts or even by the new NATO-Russia council expected to be created, the official said.
Bush took Putin at his word, the official said.
Two senior administration officials said the White House is willing to offer Russia economic and other incentives to cooperate on the Iran issue. They said that idea, which is in the early stages of development, coupled with Putin's assurances could be the starting point of a plan to resolve the issue.
The debate over Iranian nuclear capabilities underscores how Cold War fears of mutual destruction have given way to the new nightmare scenario of nuclear-active terrorists.
"I'm confident that, by working together, we can win the first war of the 21st century, and that is the war ... against cold-blooded killers who want to harm nations such as America and Russia," Bush said.
In addition to the treaty, Bush and Putin signed an eight-page statement outlining their plans for the next stage of U.S.-Russian relations. It pledges cooperation on the war against terrorism, the Middle East peace process, economics, nuclear proliferation and missile defense.
Hoping to ease Putin's objections, Bush pledged in the document to exchange information on missile defense programs and tests.
Bush also endorsed Russia's long-standing efforts to win repeal of the 1974 Jackson-Vanik law, which ties Russia's trade status to Jewish emigration.
He reaffirmed his support of Russia joining the World Trade Organization, but stopped short of declaring that Russia had a market economy ready for WTO entry.
Putin said Russia needs every obstacle lifted so that its budding free market economy can flourish. He joked that the United States could make airplanes cheaply if Russian steel were allowed to be imported without tariffs a reference to stiff tariffs that Bush slapped on imported steel in March.
Copyright 2018 The Associated Press. All rights reserved. This material may not be published, broadcast, rewritten or redistributed. We strive to uphold our values for every story published.