Carlos Baerga finally heard the cheers instead of leading them.
Baerga, who dances and hugs teammates in the dugout, hit a sacrifice fly in the 11th inning, giving the Boston Red Sox a 9-8 win Friday night after they pounded Roger Clemens before squandering a six-run lead over the New York Yankees.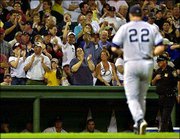 "I enjoy every minute, every at bat," Baerga said. "It was awesome. Everybody said it can't happen to a better person."
He wasn't boasting, just confirming what teammates have said about him since he signed as a free agent last December after spending two years out of the majors. He spent most of his career with Cleveland and the New York Mets.
"It's cool," said Boston starter John Burkett, who allowed four runs in six innings. "It's amazing the enthusiasm he brings to the game every night whether he's playing or not."
Rickey Henderson, another veteran who has had big seasons, started the winning rally with a headfirst slide for an infield single and ended it with a feet-first slide as center fielder Bernie Williams' throw after catching Baerga's liner hit the mound and went to the first-base side.
Yankees manager Joe Torre thought Henderson left third early.
"I don't believe an outfielder is throwing me out so I don't have to leave early," Henderson said.
Henderson had singled off Steve Karsay (1-2) and moved to second on Shea Hillenbrand's fourth hit of the game, a single to left. They moved up on Trot Nixon's sacrifice bunt before Jason Varitek was walked intentionally, loading the bases.
Baerga, playing in just his 20th game, had been 1-for-5 as the designated hitter before his liner to medium center field scored Henderson.
"I tried to get Baerga to hit a groundball," Karsay said after allowing his first run in nine outings. "I was ahead 0-2 and threw a splitter down. It was a quality pitch. He did a great job getting the ball in the air."
The Yankees came back from an 8-2 deficit to tie the game with five runs in the seventh and one in the eighth after Clemens lasted just 32*3 innings, allowing seven runs, five earned, and nine hits.
"I had good movement and felt fine physically. My slider was flat," he said.
Rolando Arrojo (3-1), Boston's sixth pitcher, threw two perfect innings.
White Sox 12, Tigers 1
Chicago Mark Buehrle pitched a five-hitter to become the American League's first eight-game winner and Frank Thomas hit one of four Chicago homers as the White Sox routed the Tigers. Thomas, Magglio Ordonez and Paul Konerko hit three-run homers and Kenny Lofton added a solo shot as the White Sox won their third straight game. Buehrle (8-3) allowed only an unearned run, struck out five and walked one in his fifth career complete game and first this season.
Indians 5, Blue Jays 2
Toronto Rookie Ryan Drese won his third straight start as Cleveland halted a four-game losing skid. Jim Thome went 3-for-3 with two walks for the Indians, who also ended a six-game road losing skid. Cleveland manager Charlie Manuel reworked an Indians' lineup that came into the game hitting .241. Drese (5-3) allowed one run and seven hits in 62*3 innings. He struck out five and walked four.
Athletics 9, Devil Rays 8
Oakland, Calif. Adam Piatt hit a tiebreaking two-run homer in the eighth inning as Oakland beat Tampa Bay. Ramon Hernandez followed Piatt with a solo home run for the A's, who have won just five of their last 20 games. With the score tied at 6, Olmedo Saenz doubled off Victor Zambrano (1-4) and Piatt homered. Hernandez added a solo shot to right. Jim Mecir (2-1) pitched two scoreless innings for the win.
Twins 5, Angels 1
Anaheim, Calif. Rick Reed pitched a three-hitter and was backed by three homers as Minnesota beat Anaheim. Jacque Jones led off the game with a home run against Ramon Ortiz (4-5), and Torii Hunter and A.J. Pierzynski also homered for the Twins. The Angels lost for just the fourth time in 25 games. It was the first time Reed (5-2) went the distance in 22 starts since joining the Twins last July 30 in a trade from the Mets.
Mariners 6, Orioles 2
Seattle Mark McLemore and Ruben Sierra homered off Scott Erickson (3-5) in the fifth inning and Seattle maintained its mastery of Baltimore at home. The Orioles dropped to 0-14 at Safeco Field and have lost 15 straight in Seattle dating to a win June 1, 1999, in the Kingdome. Freddy Garcia (5-4) allowed two runs and three hits in seven innings.
Copyright 2018 The Associated Press. All rights reserved. This material may not be published, broadcast, rewritten or redistributed. We strive to uphold our values for every story published.