Bobby Randall's seven-year tenure as Kansas University baseball coach ended not unexpectedly on Monday.
Officially, Randall resigned following Sunday's doubleheader loss to Kansas State. His departure had been widely speculated ever since the Jayhawks were assured of finishing last in the Big 12 Conference for the second straight year.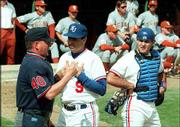 "Our low winning percentage in the conference has overshadowed all other accomplishments the team has achieved," Randall said. "It's time for a new leader in the baseball program."
Randall's overall winning percentage was 43.8 percent (166-213). In conference play, it was only 27.9 percent (56-145).
"Coach Randall has represented the University of Kansas and its baseball program with the highest standards of dignity and respect," KU athletic director Al Bohl said.
"I admire the qualities he lives by and his dedication to helping student-athletes be successful."
Along with poor conference performances, Bohl's commitment to each Kansas athletic team finishing among the top 25 and generating revenue fueled speculation about Randall's future.
"The story was more about me than anything else," Randall said, "and that overshadowed the team. I just felt like it was time. Administratively, I think they probably felt like it was time, too. That's just the way it is. That's the nature of the business. It's about winning now, more than it's ever been.
"Certainly, college athletics is about winning and there's no need to apologize for that."
Randall, a former Kansas State shortstop who played five seasons with the Minnesota Twins, came to Kansas in September 1995 after 11 seasons at Iowa State. His only winning season at KU was in 1997, the first year of the Big 12 Conference. The Jayhawks went 31-25 overall and tied for eighth in the Big 12 with a record of 12-18, but failed to qualify for the league tournament.
After 1997, the Jayhawks reached double digits in league victories just once a 10-20 record and ninth-place finish in 2000 and never qualified for the Big 12 tournament, finishing no higher than ninth.
"My philosophy's always been, 'No excuses.' I think we all understand that at KU you're going to have to overachieve, but there's a joy in that challenge," Randall said. "I've always liked that. There was no one to blame but me, so that ended up being the answer."
Randall said he hasn't thought about his future.
"Coaches don't get to do that much," he said, "so for now I just want to go home. Later on, I don't know. I'm not worried about it, but I don't know what it will be."
KU pitching coach Wilson Kilmer and assistant coach Brett McCabe are still on the staff. Their fates will be determined Randall's replacement.
Possible successors include:
Brad Hill, a former Kansas University aide under Dave Bingham who has built Central Missouri State into an NCAA Div. II powerhouse. "I've been focused on trying to get my team to the World Series," Hill said. " I haven't thought about it and, honestly, I don't want to for the next couple weeks."
Loren Hibbs, a Wichita State graduate who has spent the last 10 years as head coach at North Carolina-Charlotte. Hibbs, who spent two years at KU before transferring to WSU, was a finalist when Randall was named.
Ron Scott, head baseball coach and athletic director at Fresno City College. Scott will be interviewed for Fresno State's vacancy today. "I'm flattered to be considered," Scott said on Monday. "I'm talking to Fresno State and once that gets cleared up I'd like to talk to Al Bohl. I'm certainly interested in the position."
Brent Kemnitz, WSU pitching coach who has spent 24 years with the Shockers and was interested for the position when Bingham was hired in 1988.
"I've always thought the University of Kansas was a great school and a great opportunity for someone," Kemnitz said. "I've always had a lot of respect for the school and I'm intrigued at the situation, but I haven't given it a lot of thought. I'm very happy here, but to a good opportunity I'd never say, 'No, I'm not interested.'"
Dave Nakama, an assistant coach at Stanford who has been a head coach at San Francisco State and Mission Junior College. He also has been an aide at De Anza Junior College, Yavapai Junior College, Iowa and Northern Colorado. He's a native of Hawaii.
Other names mentioned: Doug Clark, now in his 25th season as an Arkansas assistant; Keith Guttin, now in his 20th year as head coach at SW Missouri State; B.D. Parker, former Butler County CC coach now at Nicholls State in Louisiana; and John Cohen, assistant coach at Florida who worked as a Missouri assistant for five seasons.
Copyright 2018 The Lawrence Journal-World. All rights reserved. This material may not be published, broadcast, rewritten or redistributed. We strive to uphold our values for every story published.