Columbia, Mo. — Kansas University's old reliable, Scott Russell, won his sixth individual Big 12 Outdoor track and field championship on Sunday.
Benaud Shirley, Leo Bookman and Brooklyn Hann, meanwhile, earned their first-ever individual Outdoor conference titles, helping the Jayhawk men to a fourth-place finish and women to an eighth-place mark at the conference meet at Missouri University's track.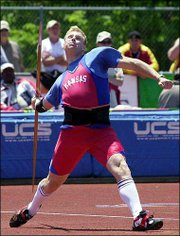 Russell threw the javelin a season-best 249 feet, 3 inches, while Shirley and Hann swept the men's and women's triple jumps in 51-11/2 and 42-11 respectively. Bookman won the 200 in 20.97.
"It feels good to come out and win at the Big 12," said Russell, KU's senior Olympic hopeful from Windsor, Ontario. "I felt good when I was throwing and was able to get the win. I couldn't ask for anything more. It's a great way to go out in my Big 12 career."
He also won the hammer throw on Friday and shared the meet's high-scorer award with Nebraska's Carl Myerscough, who won the shot and discus.
Russell, who was throwing in a fierce headwind, had his best throw on heave No. 2.
"It was a pretty stiff wind coming in from the left, but it was the same for everybody," Russell said. "My runway was great today. It was a matter of not hitting the javelin clean."
Russell had been hampered by elbow problems the past month.
"My body felt great today," he said. "Now it's time to work on tweaking technique, making everything crisper for nationals."
Shirley, a junior from Port Antoinio, Jamaica, was third in the triple jump until his final attempt.
"It feels great to win a Big 12 championship," Shirley said. "I injured myself a little yesterday during the long jump so I'm happy to win even though I'm not 100 percent."
Shirley, in fact, suffered a hamstring injury in Saturday's long jump. He made just one jump, then had treatment right up until event-time on Sunday.
"I was nervous after hurting my hamstring yesterday," Shirley said. "I couldn't generate a lot of speed. I had no idea whether I could compete or not. It was tight and sore this morning but felt OK when it was time to jump.
"I wanted to come in and win the outdoor. I knew I should have won indoors (placing second) and really wanted to win this and help the team."
Hann, a freshman from Sacramento, Calif., won the triple jump with a career-best mark that improves her NCAA provisional qualifying mark. She now has a great chance of making it to the NCAA Championships May 29-June 1 in Baton Rouge, La.
"Going into my last jump I just tried to concentrate on being calm," said Hann, who like Shirley won on her final jump. "I'm excited to win and it will be even more exciting if I get to go to nationals."
Hann, who was second in the triple at league indoor, was fifth in the competition heading into her final attempt.
"I said, 'I've got to do something,''' Hann said of her thoughts before the pivotal final leap. "I was talking to myself, trying to relax and at least get in the top three. I had been jumping pretty well but couldn't get some technical things together. I had been over-rotating on my other attempts."
In the 200 dash, Bookman crossed in a time of 20.97. Bookman was the Big 12 winner in the indoor 200 earlier this year and went on to be an indoor All-American in the event.
Bookman was in second place coming off the turn, then turned it on the final 10 meters.
"Determination," Bookman, a sophomore from Dickinson, Texas, said of the key to victory at the end. "Nobody thought I'd win today. I didn't have the fastest time coming in. I'm glad I could contribute to the team.
"I am not surprised," added Bookman, a defensive back on KU's football team. "I expect to do even better in the future."
Nebraska won the men's competition with 143 points followed by Texas (95.5), Missouri (75) and Kansas (72). Kansas State won the women's title with 121 points, followed by Texas (120) and Nebraska (117.5). Kansas was eight with 50 points.
Both KU teams improved on 11th-place finishes of a year ago.
"The total team effort was great," KU coach Stanley Redwine said. "For the men, we wanted to finish in the top four coming in and we were close to finishing third. There were a number of ways we could have picked up those points, but that's how it turned out.
"The women ended up doing what we thought they were capable of. I'm semi-happy with how things went. We have a lot of things to improve on but it was a great improvement from last year."
Copyright 2018 The Lawrence Journal-World. All rights reserved. This material may not be published, broadcast, rewritten or redistributed. We strive to uphold our values for every story published.