EAST RUTHERFORD, N.J. — Paul Pierce talked up a storm before the start of the Celtics-Nets series for the NBA's Eastern Conference title.
After the Nets had posted their 104-97 opening-game win, Boston's leading scorer declined to whine about the home team's physicality or the officials' calls. But neither was he conceding any points to the Nets.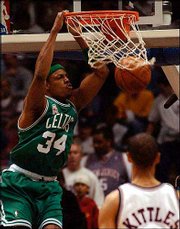 "I don't see any adjustments I need to make," said Pierce after scoring a quiet 27 points. "They played me with a lot of different people. They played me pretty much straight up most of the game. I saw double teams a little bit, but I think they played me pretty much the same."
Celtics coach Jim O'Brien defended Pierce's impact, saying: "If I'm not mistaken, he had 27 points. I think he did a pretty damn good job."
But it clearly was not the same Pierce who averaged 37-plus points in four regular-season games (three wins) against the Nets.
The Nets' defense had much to say about holding down Pierce. Kenyon Martin started out on him and absorbed the best he had to offer. But Martin got away with a message elbow in the first quarter, knocking down the Celts' star after he let go of an errant three-pointer.
From there coach Byron Scott passed the responsibility of covering Pierce to the masked Lucious Harris, Richard Jefferson, and Kerry Kittles, then back to Martin.
But the Nets got help from two Pierce fouls in rapid succession midway through the third period, the second an offensive foul as he tried to drive on Jason Kidd. O'Brien took him out with 6 minutes left in the period and the Celtics trailing, 63-58.
When Pierce returned at the top of the fourth quarter, Boston trailed by 13 and fell behind by as much as 17 before making it somewhat interesting in the final two minutes.
Pierce may have been holding his tongue, and he yapped on a few occasions with Steve Javie's officiating crew, but he put the onus on his shoulders for drawing the calls in the first place.
"I was disappointed with my fouls," he said, adding of his in-game complaints, "You're frustrated a little bit because you're in the heat of battle. I knew I was hurting my team because I knew I was coming out of the game."
But the fouls explained only part of Pierce's play. In the game's first 10 minutes he shot 6-for-9 (2-for-4 from three-point range) and scored 14 points. From there he shot 3-for-10 (0-for-4 from beyond the arc) and scored 13 points in 22 minutes.
Antoine Walker, the Celtics' other main scorer, also came up with a quiet 27 points in 47 minutes. He could have made a lot of noise had he dropped in an open-look three-pointer in the final minute, which would have cut the Nets' lead to three points. But the shot clanged off the front of the rim.
"They played very well," said Walker, tipping his hat to the Nets. "They took a lot away from us. They got too many easy backdoor layups. They got running early in the game and we were overplaying them."
But Walker and Pierce saw no carryover problems for themselves or the Celtics for Game 2 at Continental Arena on Tuesday night.
"We took their best shot," Walker said. "It's Game One. We'll make adjustments."
The Nets ran at every opportunity, scored without much difficulty and never once trailed.
Jason Kidd finished with 18 points, 13 rebounds and 11 assists, getting the triple-double with 3:53 left when he fed Keith Van Horn for a jumper that gave the Nets a 97-86 lead.
Kerry Kittles, Todd MacCulloch and Van Horn scored 14 apiece, and seven Nets reached double figures.
"There's more than one guy who can put the ball in the basket, and being unselfish and trying to play the right way that's been our motto the whole season," Kidd said.
Boston settled for far too many outside shots, even for a team that relies so much on the 3-point shot. The Celtics hoisted 29 3s, making 10, and shot just 41 percent overall.
New Jersey shot 49 percent from the field and 89 percent from the line.
"We're not the same team we were when we played Boston in the regular season. We've grown, just as they have, and matured as a team," Nets coach Byron Scott said. "We've gotten better as a team at both ends of the court, and today it was on display."
Walker made it 99-92 by hitting a 3 with 1:41 left, and Pierce made one of two from the line 20 seconds later. Walker missed a 3-pointer with 39 seconds left.
Nets 104, Celtics 97
BOSTON (97)
Pierce 9-19 7-13 27, Walker 9-23 5-6 27, Battie 2-6 2-2 6, E.Williams 4-9 0-0 10, Anderson 5-13 2-2 12, Rogers 2-5 2-2 7, Delk 3-8 1-4 8, Blount 0-0 0-0 0, Strickland 0-0 0-0 0. Totals 34-83 19-29 97.
NEW JERSEY (104)
Van Horn 6-14 0-0 14, Martin 4-9 1-2 9, MacCulloch 6-9 2-3 14, Kittles 6-12 2-2 14, Kidd 4-10 9-10 18, A.Williams 3-6 4-4 10, Jefferson 3-6 4-4 10, Harris 4-7 2-2 10, Johnson 2-4 1-1 5, Collins 0-0 0-0 0. Totals 38-77 25-28 104.
Boston 27 22 19 29 97
New Jersey 31 26 24 23 104
3-Point GoalsBoston 10-29 (Walker 4-9, E.Williams 2-3, Pierce 2-8, Rogers 1-4, Delk 1-5), New Jersey 3-14 (Van Horn 2-5, Kidd 1-3, Jefferson 0-1, Harris 0-2, Kittles 0-3). Fouled outRogers, Martin. ReboundsBoston 47 (Battie 11), New Jersey 54 (Kidd 13). AssistsBoston 18 (Anderson 6), New Jersey 23 (Kidd 11). Total foulsBoston 25, New Jersey 21. A20,049 (20,049).
Copyright 2018 The Associated Press. All rights reserved. This material may not be published, broadcast, rewritten or redistributed. We strive to uphold our values for every story published.