Milwaukee — The Chicago Cubs thought it was appropriate their winning rally came without the benefit of a hit.
The Cubs snapped a nine-game losing streak Sunday, getting a sacrifice fly from Corey Patterson in the 11th inning to beat the Milwaukee Brewers 5-4.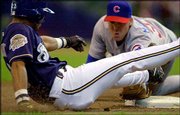 Bobby Hill drew a leadoff walk off Valerio De Los Santos (0-1), making his first appearance since April 3, 2001, and took second on a wild pitch. He was sacrificed to third and scored easily on Patterson's fly to left.
Joe Borowski (2-2) pitched two innings for the win, which was secured when Hill grabbed a liner off Lenny Harris' bat and doubled up Eric Young off second base.
"A lot of little things finally turned our way. That wasn't happening during the losing streak," manager Don Baylor said after the Cubs avoiding their first double-digit skid since starting the 1997 season with 14 losses.
The Cubs appeared on their way to yet another dismal defeat when they wasted a strong outing by Kerry Wood and trailed 3-0 going into the eighth.
"When we got down in the ballgame, I think everybody started thinking, 'Here we go again,' " Baylor said. "But we got a couple big hits and plays"
The Cubs, who tied it in the eighth on a two-run homer by Fred McGriff, took a 4-3 lead in the top of the ninth on Bill Mueller's sacrifice fly off Luis Vizcaino. He hit a soft fly to shortstop Luis Lopez in shallow left field, and Hill scored when Lopez, activated from the DL before the game, failed to set before making a throw.
"It was hit in a perfect position," Brewers manager Jerry Royster said. "He goes back and makes a good play. He wasn't in a bad angle. It's what the ball took him to.
"He chose to tag up, which is the aggressive thing to do. And then to go? It's classic. It's unbelievable. For a team that's been struggling the way that they have, they were going for it right there and got it."
Geoff Jenkins led off the bottom of the inning with a 435-foot shot off Antonio Alfonseca, his first homer since May 8, to tie it at 4.
The Brewers then put runners at second and third but Sammy Sosa ran down pinch-hitter Alex Ochoa's drive in the right-field corner to send the game into extra innings.
"We got some big hits finally," Baylor said. "Freddy's home run really got us out of it. Bobby Hill got on base a couple times and made a big play on that double play. Bobby tagging up on that short ball to left ..."
Dodgers 10, Expos 1
Los Angeles Pitcher Andy Ashby hit his first major league home run in his 473rd at-bat and Los Angeles scored in each of the first six innings to beat Montreal. Eric Karros and Chad Kreuter hit two-run homers and Paul Lo Duca went 4-for-4. The Dodgers tied a season high for runs and hits (15). The Expos gave up their most runs this year.
Braves 2, Rockies 1
Denver Julio Franco hit a tiebreaking homer in the eighth inning for his first RBI of the season, leading Atlanta over Colorado. Franco, who entered the game in a double switch in the seventh inning, started the day with a .183 average and one extra-base hit in 71 at-bats.
Cardinals 10, Reds 1
St. Louis Garrett Stephenson won his first game since September 2000 and Eli Marrero and Tino Martinez hit three-run homers as St. Louis beat Cincinnati. The Cardinals have won eight of 10 and are 5-1 so far on a 10-game homestand. The Reds have won five of seven.
Phillies 4, Diamondbacks 3
Phoenix Jimmy Rollins hit a three-run home run as the Arizona bullpen faltered and Philadelphia beat the Diamondbacks to snap a six-game losing streak.
Padres 4, Mets 3
San Diego Mark Kotsay hit an RBI single with two outs in the ninth inning and San Diego beat New York to avoid a four-game sweep. Kotsay finished 4-for-5 with one RBI and two runs scored for the Padres, who snapped the Mets' five-game winning streak.
Marlins 4, Giants 2
San Francisco Preston Wilson hit a tiebreaking, three-run homer in the eighth inning to give Josh Beckett and Florida Marlins a rain-delayed victory over San Francisco. After rain delayed the start of the game for 1 hour, 36 minutes, Beckett (2-2) did not allow a hit until Tom Goodwin grounded a single with one out in the sixth.
Pirates 5, Astros 3
Houston Kip Wells won for the fifth time in six starts as Pittsburgh snapped a four-game losing streak with a victory over Houston. Aramis Ramirez, who missed 21 Pirates games this season because of a suspension and ankle injury, hit his first home run of the season as Pittsburgh stopped Houston's seven-game winning streak.
Copyright 2017 The Associated Press. All rights reserved. This material may not be published, broadcast, rewritten or redistributed. We strive to uphold our values for every story published.